Flick lives!
That - along with "Excelsior!" - was the watchword of legions of Jean Shepherd fans back in the late 1960's and early 1970's, people who listened to Shep's late-night radio show. When I was in high school in the New York 'burbs, I would tune in to WOR - 710 on the AM dial - at 10:15 p.m. every weeknight for forty-five minutes of hilarious rambling storytelling... and when the notes of Strauss's "Bahn Frei" began to sound in the background to announce the show's closing moments, I always wanted more.
Flick, one of many characters in Shepherd's stories, was based on Jack "Flick" Flickinger, a childhood friend. How much resemblance the real-life Flick bore to the Flick in Shep's tales is anyone's guess, but I'm sure he must have been amused (or befuddled) by his name becoming an arcane catchphrase. For a while there in the early 1970's, you could see "Flick Lives!" graffiti scrawled on virtually every paintable surface in the New York area; more often than not, some tagger with a perverse sense of humor would come along and draw a ligature connecting the bases of the l and the i, with predictable results. Har-dee-har-har.
Several actors played Flick in various television and film adaptations of the Shepherd canon over the past 35 years. In several PBS television productions ("The Phantom of the Open Hearth," "The Star-Crossed Romance of Josephine Cosnowski," and "The Great American Fourth of July and Other Disasters") William Lampley portrayed an adolescent Flick. A slightly younger (but still teenaged) Flick appeared in "Ollie Hopnoodle's Haven of Bliss," played by Cameron Johann. And still younger versions of Flick appeared in the film
A Christmas Story
and its sequel
My Summer Story
(AKA
It Runs in the Family
). Owing to the extreme seasonal popularity of
A Christmas Story
, however, it's the Flick from that movie with whom most of us are familiar today.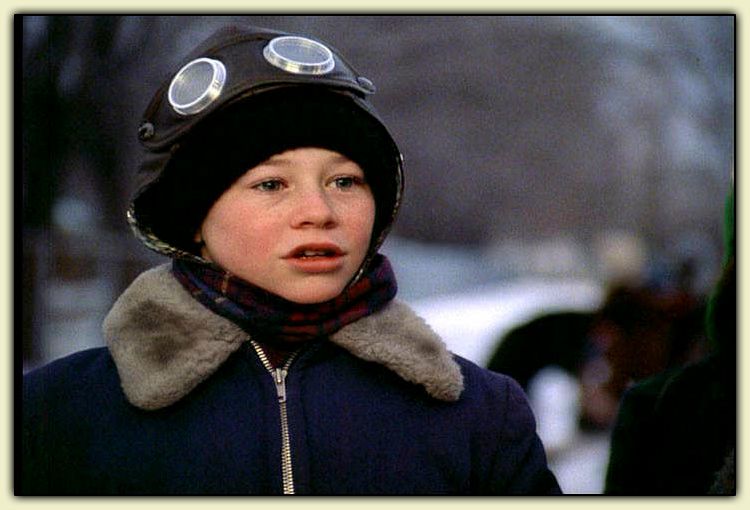 A couple of days ago I was sitting in my usual seat during the morning Shabbat service. I had, as I do almost every week, helped officiate during the Torah reading, standing at the side of the reading table to announce page numbers, assist the readers with their cantillation, and correct their occasional mistakes. I had, as I also do almost every week, gone out to the kitchen with the other Kiddush Club regulars for a celebratory
schnapps
. And now, as the service was winding down, I recognized one of the women sitting in the row immediately behind me as a congregant who, just the day before, had had the difficult task of burying her father.
I hadn't known much about the deceased gentleman beyond his name - Allen Schwartz - and the fact that he had lived in Detroit, where he had garnered a certain amount of local celebrity as "The Singing Window Washer & Comic Too." But as the service ended, I stepped forward to offer my condolences to his daughter.
Sitting next to her during the service - directly behind me - was a younger man: her cousin from Los Angeles, as I came to discover. As most of the congregation wended their way from the sanctuary towards the social hall for the oneg Shabbat luncheon, we remained behind while the young man shared a few memories of his late uncle.
Uncle Allen had offered to bring him into the window washing business, but he had declined. "There's no way I could deal with that weather any more," he said. New Jersey (where he grew up), Detroit (where his uncle had lived), and Cleveland (where he had recently been to the Christmas Story house) - all too cold.
Ah! The
Christmas Story House
! Why, we had
just been there
less than a year ago... and it turns out that the young man had spent some time there as well. "I was
in
that movie."
I looked at him again, and suddenly I pictured his face with tongue outstretched, stuck fast to an icy metal flagpole, howling as his friends ran back to the classroom. There was no doubt about it - it was Flick, hizzownself! Here I was in
shul
with Scotty Schwartz, who, 28 years ago, had played a part in one of the most iconic Christmas movies of all time. Ironic, eh?
Scotty and his cousin had come to attend services that morning, after which they would return to her house to continue sitting shiva. I could empathize with him, having
lost a beloved uncle
myself just a few months ago. And we had a lengthy conversation with Scott telling stories about going to ballgames with his Uncle Allen, playing video games with Richard Pryor, freezing on the
A Christmas Story
shoot (the flagpole scene was filmed in St. Catharines, Ontario), and mourning the loss of Pryor and (more recently) of Corey Haim, a close friend.
You just never know who you'll run into at
shul
...