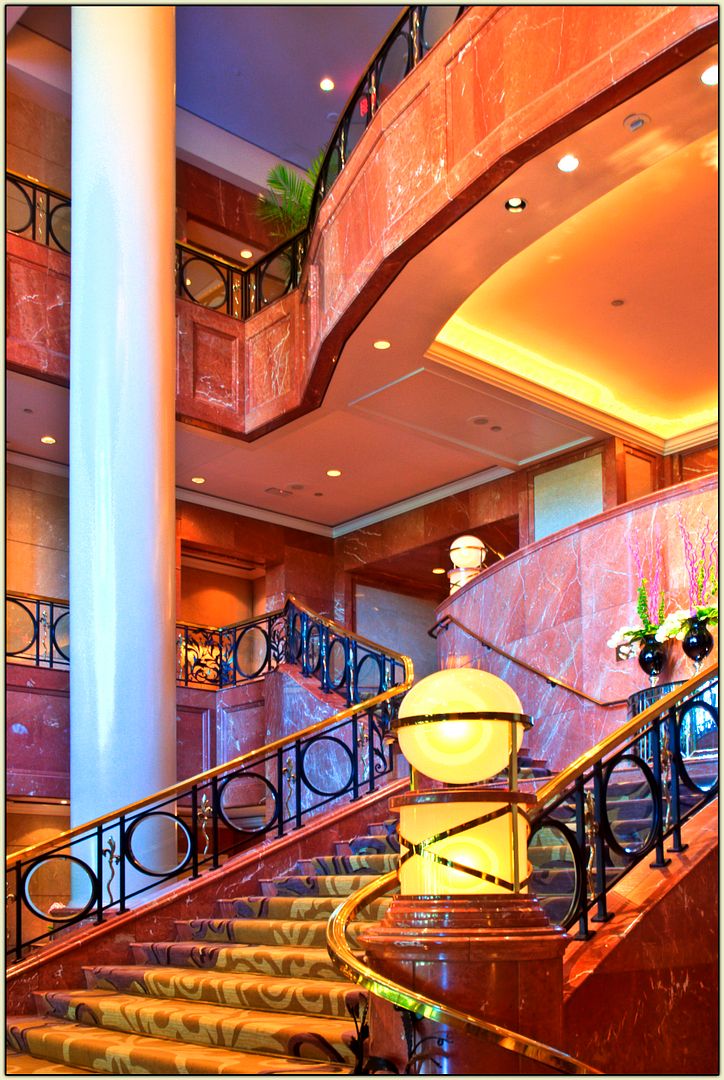 The lobby of the Four Seasons Hotel in Atlanta, site of this evening's Sommelier Guild banquet.
This month's Sommelier Guild event - to be held this evening at the
Park 75 Restaurant
at the Four Seasons Hotel in Atlanta - is not just a Winey Dinner: It's the Guild's Annual Banquet. The Big Kahuna event, even grander in scope than the December dinners.
Somehow, I've always managed to be either out of town or just returning from out of town when the the Banquet rolls around, and today will be no exception... but this time I'm planning to be there.
We'll taste an assortment of fine wines, including three -
count 'em!
- grand cru Burgundies while chowing down on Chef Robert Gerstenecker's tasty comestibles.
Denny
, alas, will be away at this year's Blown Star Blodgemeet... and Houston Steve is otherwise engaged as well. But She Who Must Be Obeyed will join me for the festivities. Huzzah!
Here da menu and da Carte des Vins:
Speaker's Wine:
NV DuVal-Leroy Brut Champagne***
Gougères
First Flight:
2002 Domaine Francois et Antoine Jobard Meursault "En La Darre"***
2004 Jean Noel Gagnard Bâtard-Montrachet Grand Cru****
2006 Kistler Sonoma Valley "Kistler Vineyard" Chardonnay*
Seared Day Boat Scallop, Butter Poached Lobster, Lemon Grass Risotto, Lobster Nage
Second Flight:
1998 Faiveley "Corton" (Clos Des Cortons Faiveley) Grand Cru****
1998 Faiveley "Latricières-Chambertin" Grand Cru***
2006 Freestone by Joseph Phelps Sonoma Coast Pinot Noir****
New York State Duck Breast and Confit of Leg, Sweet Potato Purée, Mountain Huckleberry Sauce
Third Flight:
1987 Monticello (Corley Family Reserve) Napa Valley Cabernet Sauvignon (3 Litre)
2006 Concha y Toro Don Melchor Cabernet Sauvignon (Chile)**
2007 Stanton Oakville-Napa Valley Cabernet Sauvignon***
Domestic Rack of Lamb, Grilled Summer Vegetables Moussaka
Dessert:
NV Taylor Fladgate 20 Year Old Tawny Porto***
Benedictine Mousse Cake with Champagne Poached Pear
Sounds like it will be a tasty evening. I'm looking forward to a Compleat Debauch. SWMBO, meanwhile, is looking forward to finding ways to avoid eating any of the Ducky or Lamby dishes. Heh!
Postscriptum:
A Compleat Debauch it was indeed. The food was uniformly excellent - SWMBO even permitted herself a taste of the duck and lamb - and the wines superb. My preferences are indicated by asterisks, as usual.