The award-winning Moshe Ribeinu team at last month's kosher BBQ cook-off in Birmingham. Pictured (L to R): Hank, Barry, Job Johnny, Elisson, and Bartimus Magnificus.
As I prepare for my annual Golfy Outing, I know that one of the Big Decisions our group is going to be faced with is what to eat.
In years past, when we'd hack up various courses on the
Robert Trent Jones Golf Trail
in Alabama, we would be staying in a hotel... preferable one very close to the courses we would be playing on any given day. And that would mean dining out.
But this year, we'll be playing in Myrtle Beach, where we will be staying in a condo. That means we have the option to cook at least a few of our own meals. But what to cook?
Well, it will be pretty uncomplicated. Not knowing what equipment will be available, a lot of fussy slicing and dicing is not part of the planning basis. And we don't want to have to buy or schlep too much in the way of condiments and spices.
But when sportsmen gather, you can take it to the bank that meat will be on the menu. Red meat. Big slabs of it. And since there will be a Costco in the vicinity, those big slabs won't come with a ridiculous price tag.
I figure that between me, Bartimus Magnificus, and Job Johnny, we ought to be able to throw something together. After all, we were the power at last month's When Pigs Fly Kosher BBQ Cook-Off in Birmingham, bringing back three (count 'em) trophies. It may not be barbecue - we'll be too busy playing golf to stand over a smoker all day and night - but who would say no to a thick, perfectly grilled steak with some roasted veg and grilled corn with Chesapeake butter?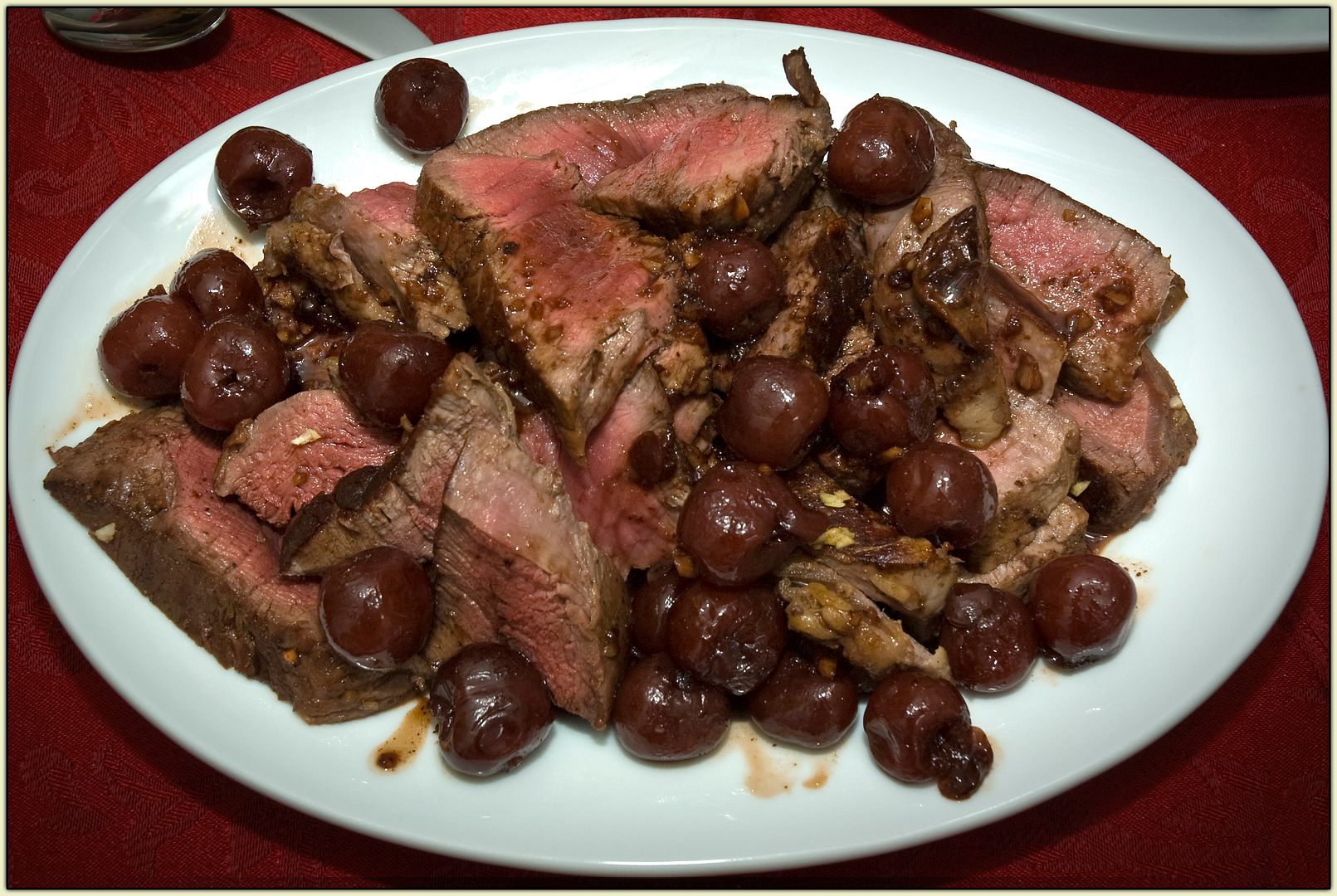 Seared beef tenderloin with cherries and wine sauce.
Roasted corn with Chesapeake butter.
And a Martini. Can't forget the Martinis.