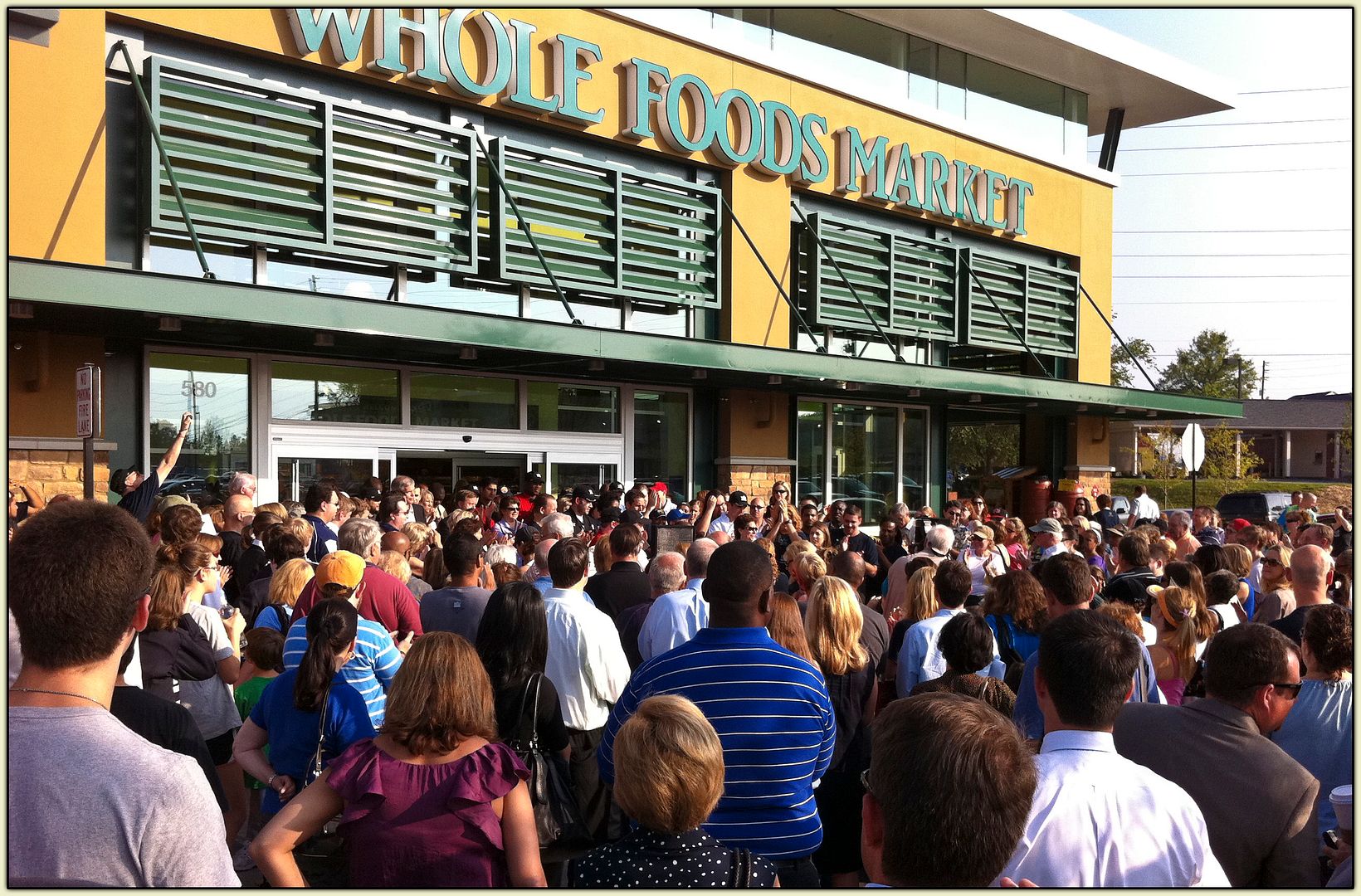 An eager horde awaits the opening of the new Whole Foods Market.
This morning we joined a horde of people for an eagerly anticipated local event: the opening of a new Whole
Paycheck
Foods Market here in east Cobb County.
You'd think we were at a Beatles reunion concert, given the size of the excited mob that queued up for a chance to be among the first to check out the spotless aisles crammed with wholesome organic foodstuffs. (The fact that the store was also giving away a free breakfast might have provided additional incentive for showing up.)
The parking lot was already bulging at the seams an hour before opening, when She Who Must Be Obeyed and I treated the Minyan Boyz to breakfast at the local Caribou Coffee shop. This was in accordance with our long-standing tradition: a person observing a
yahrzeit
(the anniversary of a loved one's passing, as reckoned by the Hebrew calendar) buys breakfast for those who have, by their presence, helped ensure the quorum necessary for the recitation of the Mourner's Kaddish. Today it was SWMBO's turn, it being her sister's thirty-sixth
yahrzeit
.
Fearing a massive jam in the Whole Foods lot, SWMBO wisely selected a parking slot halfway between there and Moose-Café. And after a leisurely morning repast, we hoofed it over to where the crowd, already sizable, was milling about and standing in line for their free plateload of fruit and bakery items. We bypassed the Food Queue and headed straight for the mosh pit that had gathered at the front door, where bands and cheerleaders from the local high schools were doing their best to keep everyone entertained.
As the nine o'clock opening hour approached, an assortment of Whole Foods honchos and local officials took turns speechifying... and then the Great Moment arrived, whereupon a ceremonial loaf of bread was cracked open. The doors were flung wide and the crowd surged in.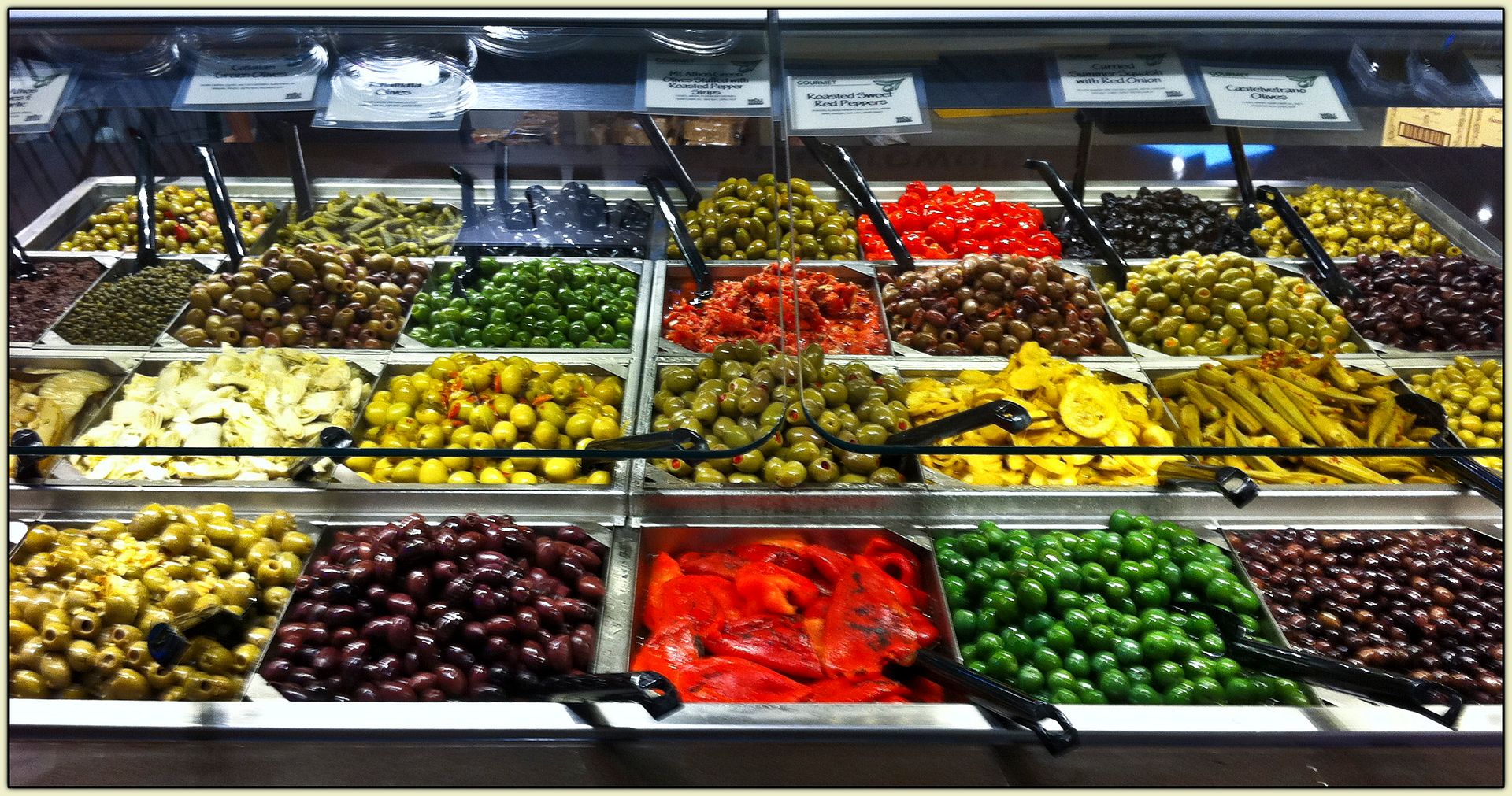 A brightly colored assortment of cage-free olives.
Like many of the newer Whole Foods stores, this one is huge; being brand-new, it is also immaculate. The products offered therein include a cornucopia of exotic grains, organic vegetables and meats, locally sourced produce, and numerous sustainably produced items. For me, it's a chance to cut the fourteen-mile roundtrip to Harry's Farmers Market (the nearest Whole Foods affiliate) down to two miles, making it easier to score my German pumpernickel, beet roots, bison roasts, grain-fed hummingbird tongues, beef hanger steaks, free-range paper towels, and obscure seasonings. It won't replace my regular expeditions to Publix or Trader Joe's, but the folks at Fresh Market should be scared to death: Whole Foods is taking dead aim at the core of their target market.
Not only that, Whole Foods operates a slew of foundations whose missions include eradicating third-world poverty, reducing obesity among American children, and curing colon cancer. (OK, I made that last one up.) I may joke about some of the seemingly excessive earnestness of this outfit, but they do seem to take seriously the idea of improving the world we live in, and for that they should be commended.
Fancy-pants Vosges chocolate bars.
I was almost sorry to happen upon an impressive display of Vosges chocolate bars. Choccie lovers who crave the exotic get Food-Stiffies for these tasty - and costly - treats. Bacon, sea salt, goji berries, pink peppercorns, cardamom... if you can think of any random weird shit to put in your chocolate, the good folks at Vosges have probably beaten you to it.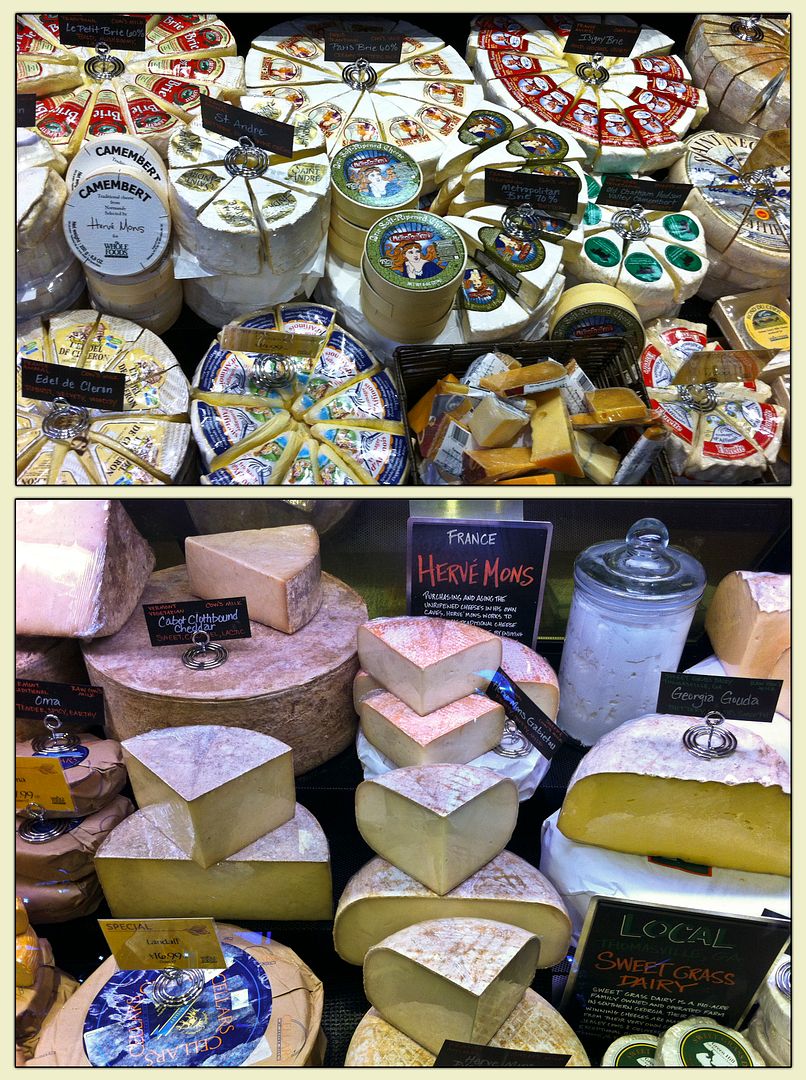 Didja think I'd forget the Cheese Aisle?
I'd be remiss if I did not mention the cheese aisle, stocked with a fresh assortment of hormone-free grass-fed
fromage
. A slab of five-year-old Gouda, with its characteristic butterscotch-caramel undertones and the crunch of tyrosine crystals, and a wheel of soft, buttery Sweet Grass Dairy Green Hill, and we were good to go.
Alas, not the place to find duck
foie gras
or whale bacon. Or Wonder Bread, for that matter. But that's why God invented Piggly Wiggly. And Japan.