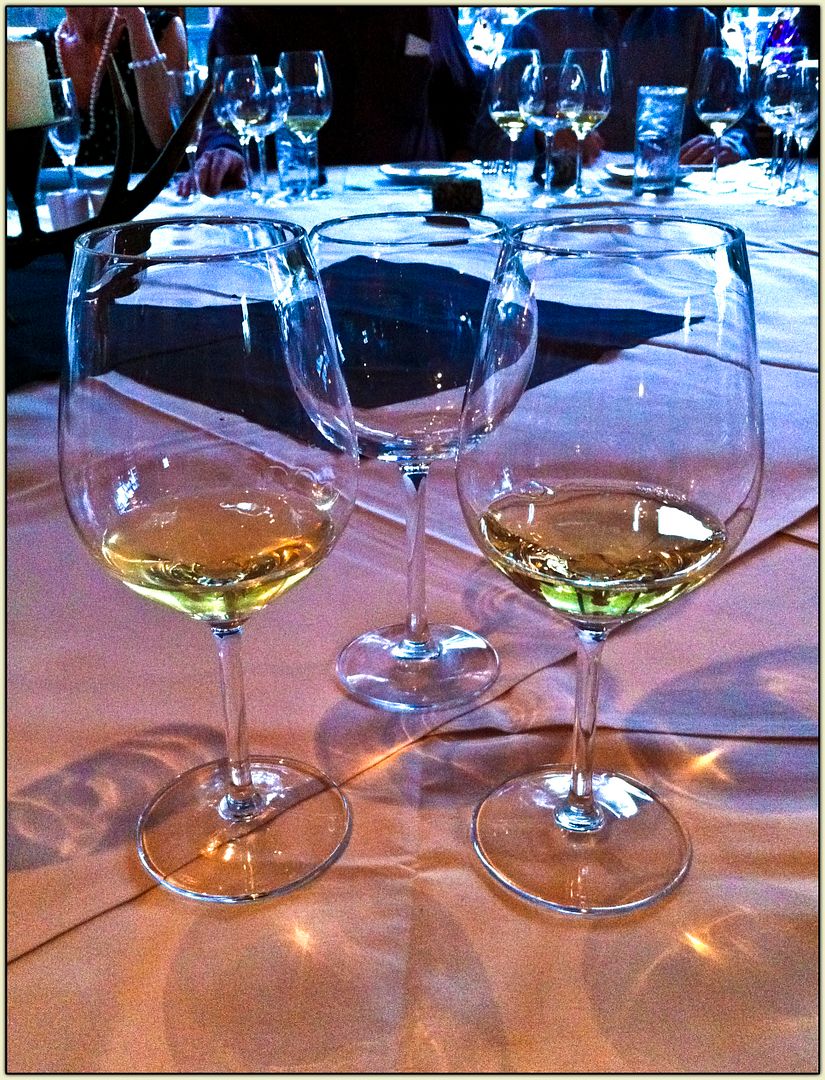 Kistler and Mount Yonah chardonnays square off against each other in a blind tasting. The Kistler fetches $85 the bottle, the Mount Yonah (from a vineyard adjacent to Helen, Georgia) $28. Which one was the Guild favorite? Read on...
Tonight's Guild event is notable for several reasons.
First, it will be held at
The Thorn Tree
in Norcross, the second time we've dined there since January. That's notable.
Second, it's a May event that I will actually be able to attend. The past several years, out-of-town commitments have prevented me from showing up at the May tasting. Not this time. That's notable.
Third, it's a white wine tasting... and I'm going anyway. That's notable, too!
I'm looking forward to a pleasant evening of fine wine, excellent food, and lively discussion.
Denny
and I can badmouth Obama's feckless Middle East diplomacy to our hearts' content.
Meanwhile, here's what's on the menu:
Speaker's Wine:
Mumm Napa / Napa Valley Brut Rosé NV
First Flight:
Blind Tasting
Kistler Sonoma Coast Chardonnay "Stone Flat - Parmalee Hill" 2007 - California***
Yonah Mountain Georgia Chardonnay 2008**
Pan Seared Atlantic Skate Wing
Caper White Wine Butter, Mashed Potatoes, Steamed Asparagus
Second Flight:
Artesa Estate Reserve Carneros Chardonnay 2009 - California**
Franciscan Napa Valley Chardonnay (Cuvée Sauvage) 2008 - California
Far Niente Napa Valley Chardonnay 2009 - California
Grilled Gulf Red Snapper
Jasmine Rice, Sauteed Broccolini, Saffron Beurre Blanc
Third Flight:
Domaine Houchart Côtes de Provence Rosé 2010 - France**
Chateau de Trinquevedel Tavel Rosé 2010 - France
Crois de Susana Balbo Mendoza Malbec Rosé 2010 - Argentina
Ancho Chicken
Cilantro Gremolata, White Corn Torta
Dessert:
Standing Stone Finger Lakes Chardonnay Ice Wine 2007 - New York State***
Mango Panna Cotta
Fresh Vanilla Cream, Charred Mango Garnish
Lagniappe:
Paul Lalo Sierra Madre Vineyard Chardonnay 2007
Dönhoff Oberhäuser Brücke Riesling Auslese 2007**
It promises to be a Tasty Evening... with plenty of
stuffed and mounted wildlife
to gaze at while we dine.
Postscriptum:
Alas, no Denny. It appears that he was suddenly taken ill... here's hoping for a speedy recovery.
My preferences noted with asterisks.
In the blind tasting, the Mount Yonah was the overwhelming favorite, with a small minority (including Yours Truly) preferring the far costlier Kistler. But given the price difference, I'd be perfectly happy with the Mount Yonah!