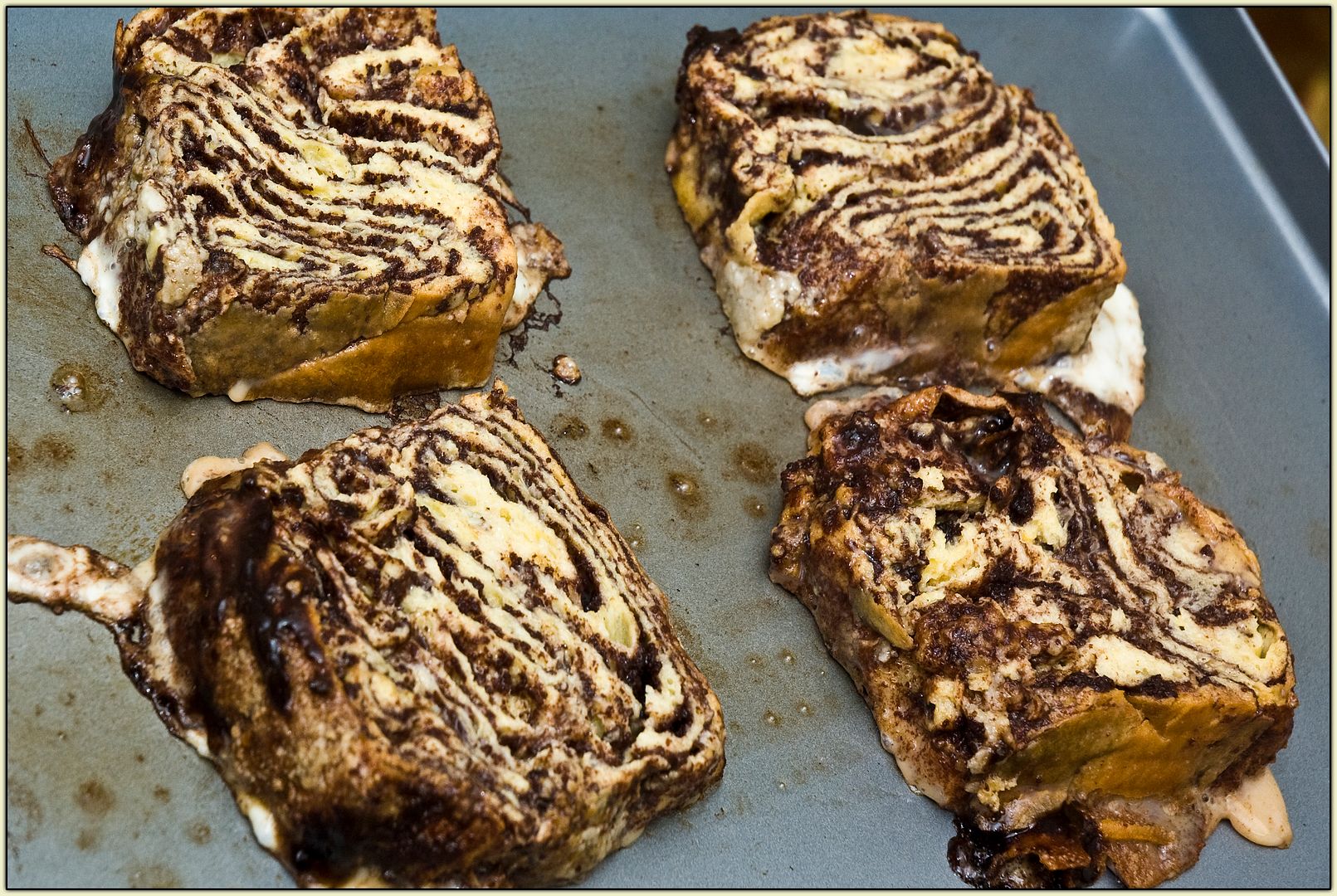 Chocolate Babka French Toast. Yes, you heard me.
The Moody Blues may have been looking for the Lost Chord, but not me. I went about trying to find the Lost Bread:
pain perdu
.
Pain perdu
, as any foodie (or Francophone) will tell you, is nothing more or less than French toast, that popular breakfast staple. It's not all that difficult to make. Slice up some bread, soak the slices in a mixture of egg and milk, cook 'em on a griddle until the bread has turned a nice golden brown, and Bob's your uncle: Breakfast! The name ("lost bread") owes its origins to the fact that French toast is typically best when prepared with stale bread, bread that would otherwise be tossed to the birds. (Stale bread, it seems, is less likely to become soggy when soaked in the milk-egg mixture.)
I don't eat a whole lot of French toast these days. It's somewhat high in carbs and calories, especially when doused in its usual accompaniment, maple syrup. But the Local Bagel and Smoked Fish Emporium makes a creditable version using their house-made challah bread.
There was a restaurant in Savannah that made French toast using banana bread in lieu of the usual stale white loaf... which they would serve up with a little pot of crème Anglaise, as if banana bread French toast were not already decadent enough by itself. I will confess that She Who Must Be Obeyed and I accompanied the Mistress of Sarcasm to that place all too many times.
Today, however, as I watched one of my Minyan Buddies enjoying the abovementioned challah French toast, I had a brainstorm. If you can make French toast out of banana bread, why couldn't you use a substrate that is even more ridiculous and decadent? There were perhaps a dozen loaves of chocolate babka sitting on the counter. Wouldn't that make a Jim-dandy French toast? Yes, I thought. Yes, it would.
Tommy, the proprietor of the Local Bagel and Smoked Fish Emporium, had no interest in glopping up his griddle with molten chocolate, so he declined to make it for us... but he was interested enough (with some prodding by his daughter and by Mary Beth, the waitress) to make me an offer I could not, in good conscience, refuse: He would give me a chocolate babka to take home and French-toastify, to see whether it was any good.
Which I proceeded to do, bringing the results back to the Emporium for the intrepid staff to try.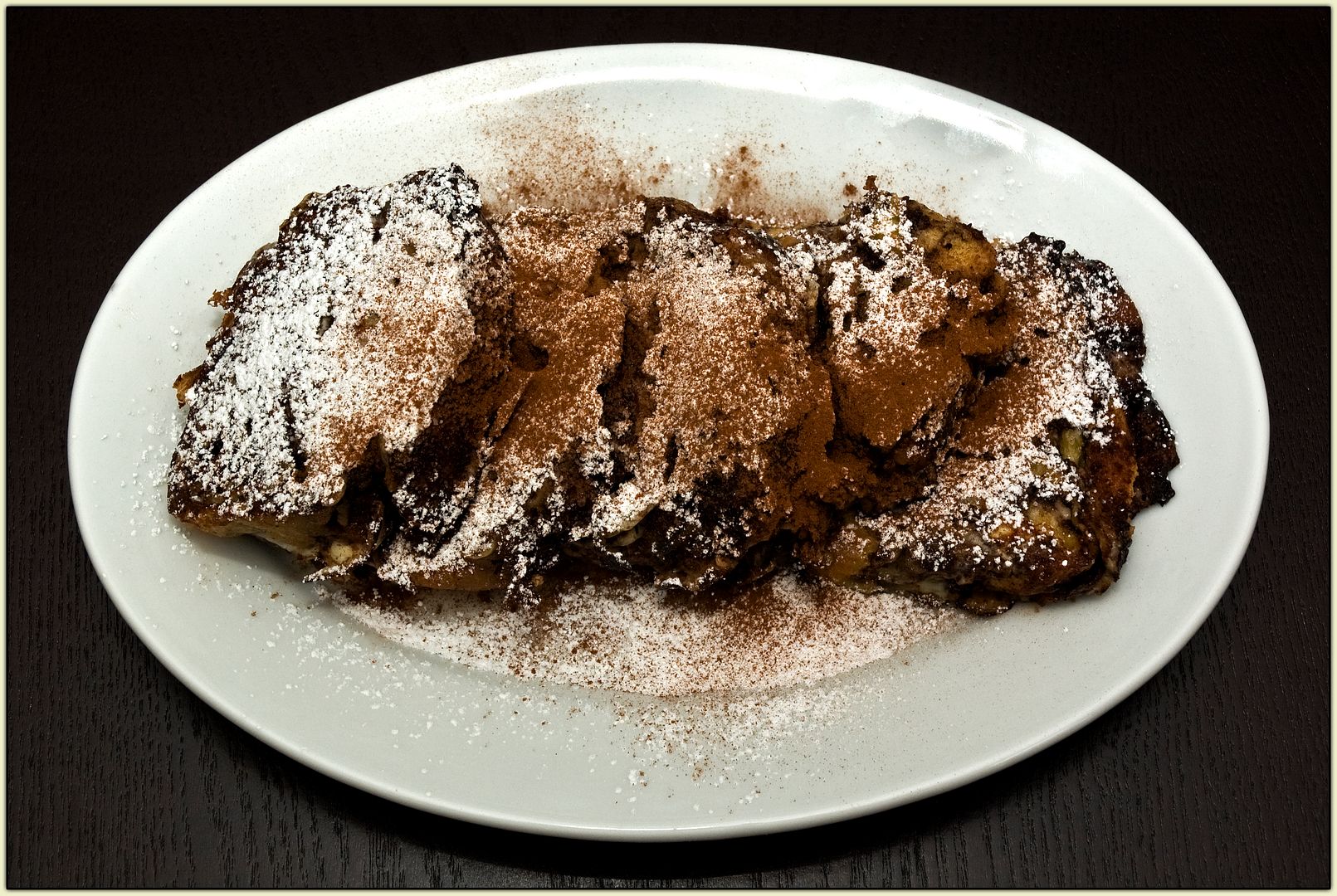 The finished product, with a dusting of confectioner's sugar and cinnamon.
Was it any good?
Let me put it to you this way. When Mary Beth tasted it, her eyes rolled back in her head like a porn star.
If you'd like to try it yourself, get ahold of a chocolate babka, slice it into inch-thick slabs, and soak 'em in a blend of one cup milk, two eggs, a dash of salt, and a teaspoon of vanilla. (Rum would work just fine, too.) Throw it on a well-buttered griddle until cooked through. Dust with confectioner's sugar and a bit of cinnamon. Eat.
Now, aren't you ashamed of yourself? I would be, but I have no shame.