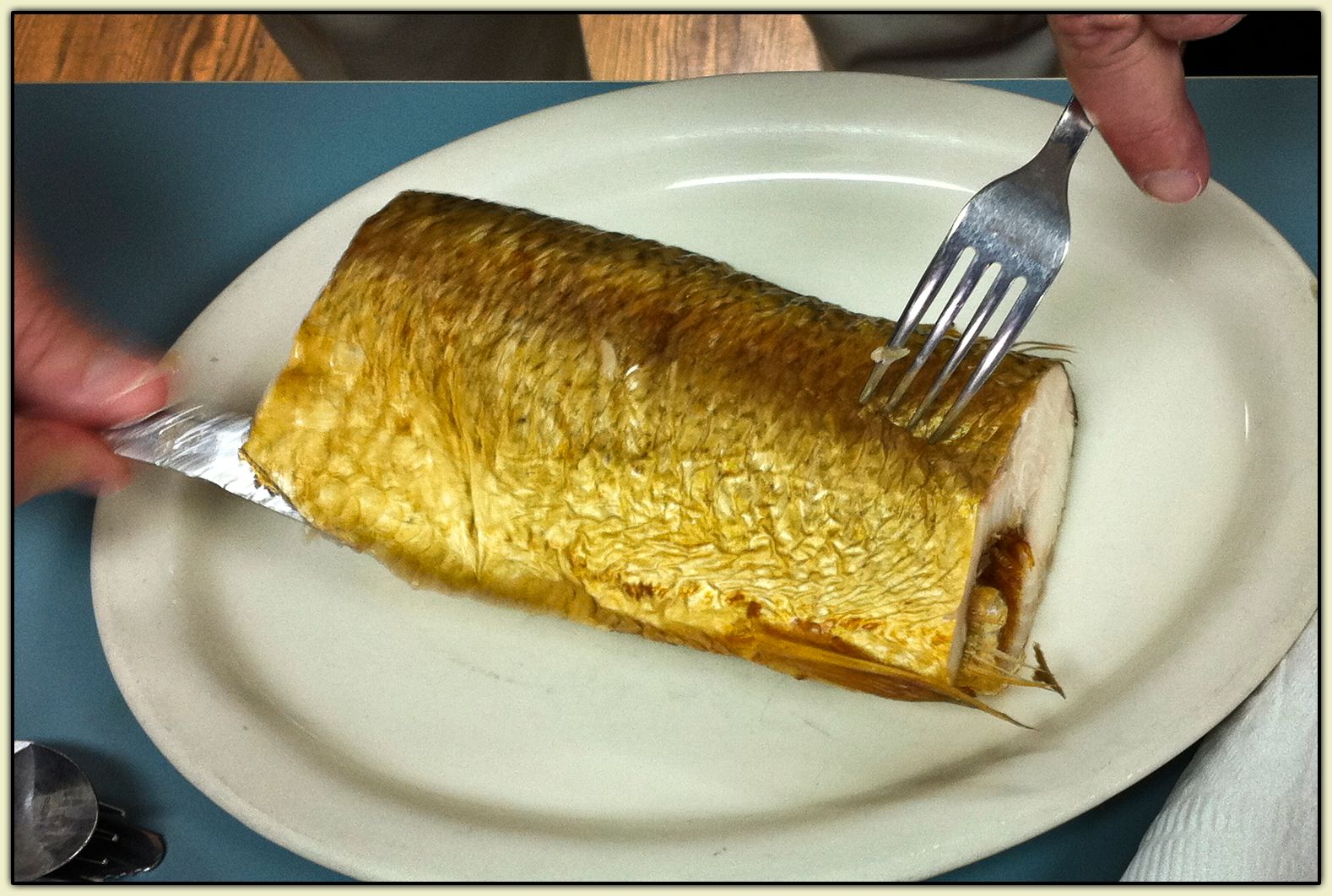 Houston Steve prepares to bone and skin a chunk of smoked whitefish.
This morning, following my usual custom, I went to morning
minyan
and then to breakfast; today being Wednesday, breakfast was at a local Caribou Coffee outlet rather than the Local Bagel and Smoked Fish Emporium.
Caribou makes a fine cup of coffee, as well as a satisfying seven-grain hot cereal, but smoked fish is not among their offerings. If you're sufficiently desperate for same, you can walk through the door that connects Caribou to the adjoining Einstein's Bagels, but all you will find there is lox-and-cream-cheese spread and piss-poor bagels. Far better to walk a few hundred feet farther and go directly to the Local Bagel and Smoked Fish Emporium, the proper source for Things Fishy around these parts.
Lou was with us, as he is on most Tuesdays and Wednesdays. "Papa" Lou is a spry fellow in his mid-eighties, one of those people who quietly serves his community in at least a dozen different ways. A former denizen of Coney Island, he has lived here in the northern Atlanta 'burbs for a couple of decades now; despite the passage of time, he still carries with him fond memories of his Neptune Avenue days.
Smoked fish in all its tasty varieties was ever popular back in Coney Island, and easy to get as well. Salmon, sable, you name it, you could get it. But the clear favorite was from local waters, and beginning around this time of year (says Lou), Gravesend Bay was literally clogged with schools of them. I speak, of course, of the famed Coney Island Whitefish.
Just as the swallows return to Capistrano, and just as the salmon swim upstream to spawn, so do the whitefish return to Coney Island in the first warmth of Spring.
Properly smoked, whitefish is delectable all by itself. It also can be chopped and combined with mayonnaise to make a spreadable salad: think tuna salad, but with more pungency and flavor. The Local Bagel and Smoked Fish Emporium makes a superb version with plenty of good-sized chunks of fish. It's great atop a freshly baked bagel with a little sliced raw onion.
But if you want the best possible smoked whitefish salad, you've got to go to the source. You've got to go to Coney Island.
Coney Island Whitefish Salad
1 pound smoked whitefish (preferably Coney Island)
3 tbsp mayonnaise
Salt, pepper to taste
Carefully bone the fish and flake it into small pieces; leave about a quarter of it in larger chunks. Combine the mayonnaise and the small pieces to make a smooth paste; season with salt and pepper to taste. Fold in the larger chunks of fish. Garnish with a used condom.