My ever-loving, ever-patient Missus: She Who Must Be Obeyed, my helpmate of thirty-five years.
She walks in beauty, like the night
Doo dah, doo dah
She walks in beauty, like the night
Oh, doo dah day
As the above ditty - it's been running through my head the past couple of days - would seem to say, my innermost self is an admixture of the sublime and the ridiculous, proportioned out in a manner at once carefully measured yet completely unpredictable. And yet, it has a few constants - the stars by which I make my dead reckoning as I navigate the Waters of Life.
The most constant of those constants, of course, is She Who Must Be Obeyed, who, as of today, has also been The Missus for thirty-five years. She has, somehow, managed to put up with me for all of that time, not to mention the not-quite-eighteen months immediately preceding our nuptials.
She is a woman of infinite patience, clearly. How else to explain it?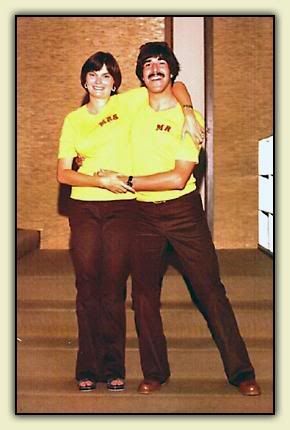 Elisson and SWMBO, thirty-five years ago today - getting ready to start the honeymoon.
Look at her, the wide-eyed innocent in the photo above, taken just before we departed the Wedding Premises. Innocent... and yet there is a mischievous sparkle in her smile. Meanwhile, the Man-Clod next to her wears the same dopey, shit-eating grin with which he has plastered his face for the entire duration of the wedding. It's the Elisson Wedding-Face. Hell, I can't blame myself even unto this day - you'd've been grinning too, were you in my position.
Thirty-five years later, I'm still grinning. Still very like a teenager in love.
And we can
still
get into those nutty T-shirts.