Further to
this post
, here are a few more images from our Japan trip four years ago. Click on any of 'em to embiggen.
A confectioner's display showing some of the local matcha (fine powdered green tea) goodies.
There is nothing compares with the artful arrangement of the items for sale in Japanese shops. Combine a general tendency toward fussiness with a food item that has a whole ceremony associated with it, and you have an inkling of what you'll see in Kyoto when you start looking for
matcha
-based confectionery.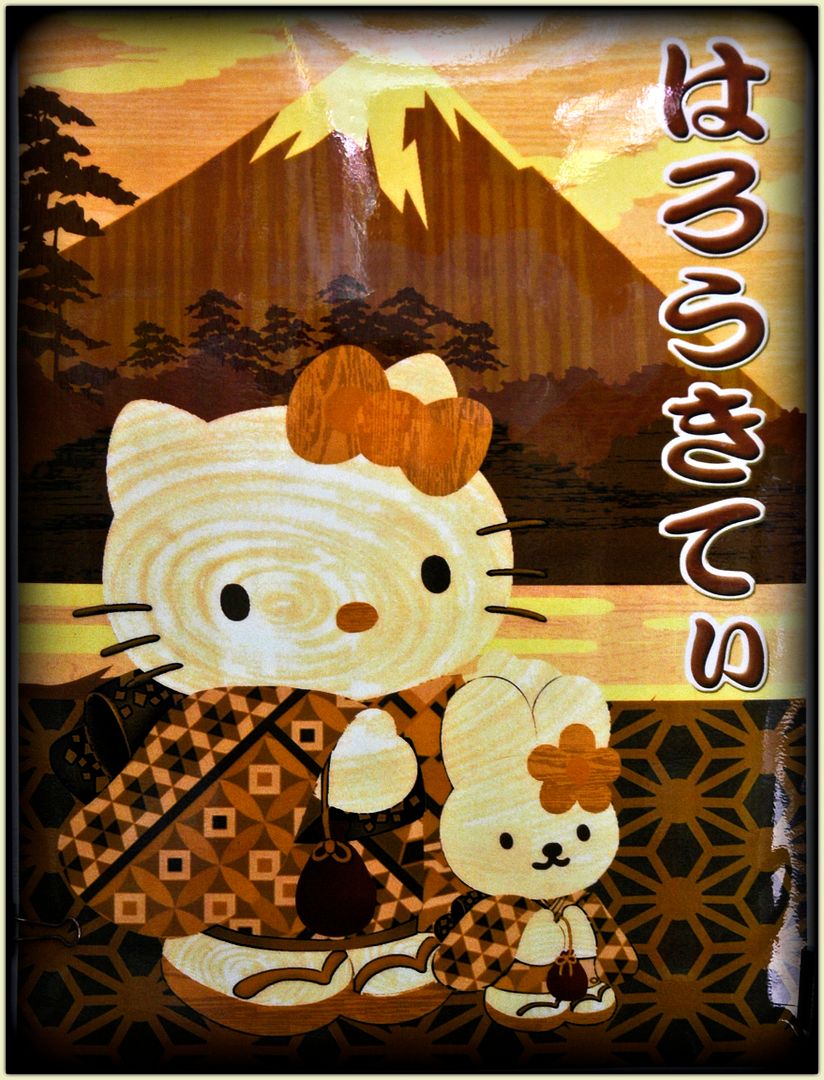 Hello Kitty, Hakone style.
Hello Kitty is beloved by the Japanese: To say that she is their answer to Mickey Mouse is to damn her with faint praise. This poster shows the typical style of the Hakone region - the area around Mount Fuji - with intricate patterns, wood grains, and (of course!) Fuji-
san
in the background. The Japanese
hiragana
calligraphy on the right side says "Herrou Kittei."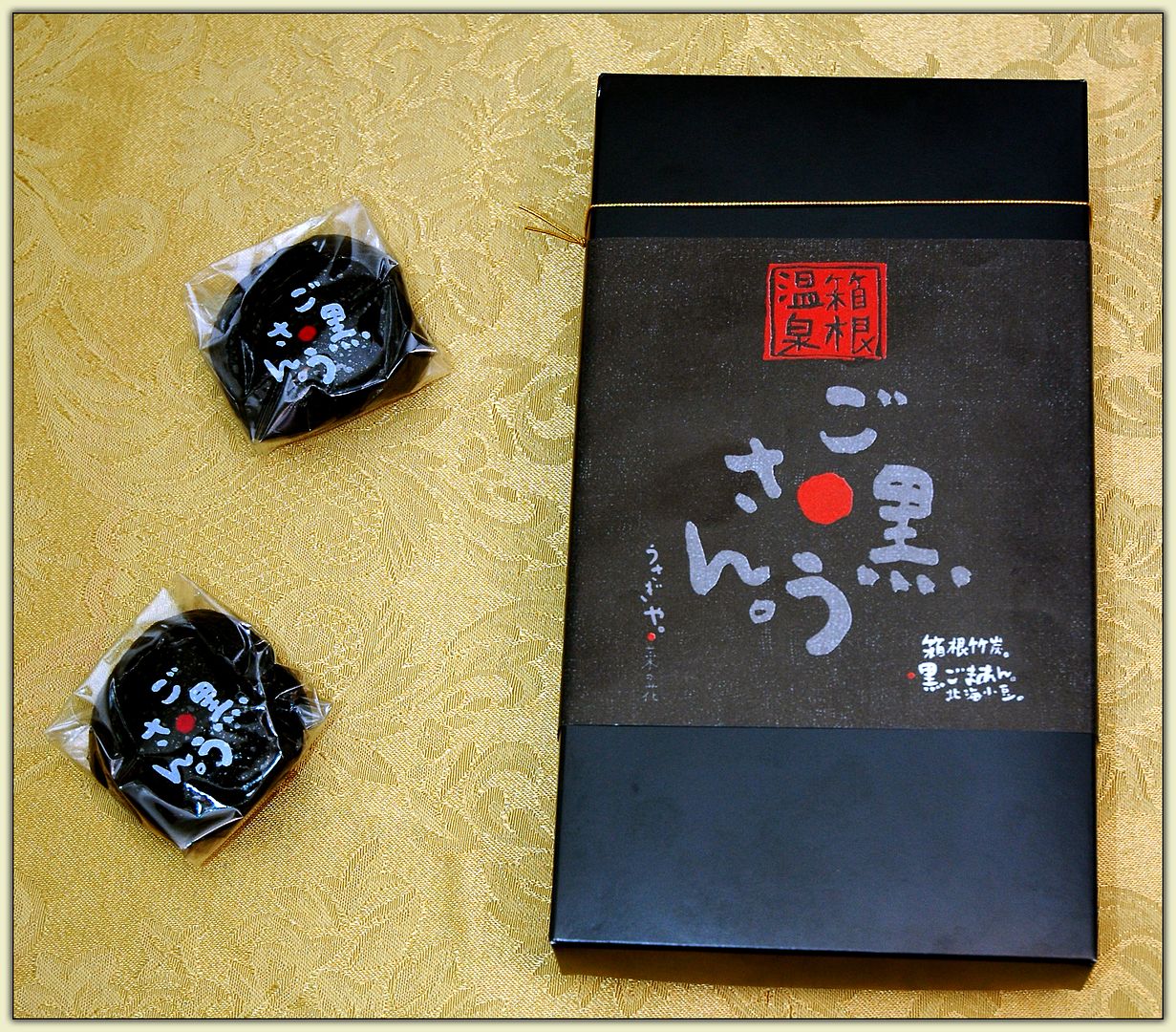 Licorice? No, black sesame rice candy.
Westerners, when confronted with a jet-black confection, will immediately think "licorice." Wrong-O. This is black sesame candy, a gelatinous rice-based affair, with a taste vaguely reminiscent of halvah... which, when you think about it, makes perfect sense.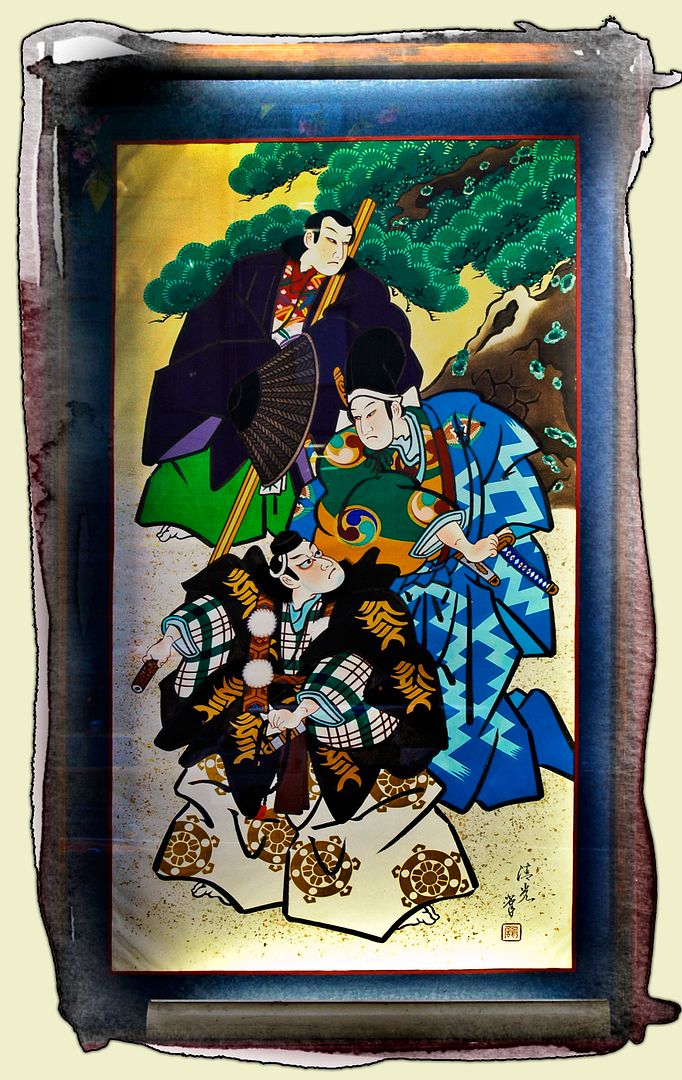 Poster advertising an upcoming performance at the Kabuki-za, April 2008.
The old Kabuki-za, the 55-year-old theatre in the heart of the Ginza district, was demolished after its last show on April 28, 2010. Its replacement, still under construction, will open in 2013, but Elder Daughter and I managed to catch a show at the Old Place. Couldn't understand a word, but Kabuki, surprisingly, is an art form that transcends language with its timeless stories of love and betrayal. I'd go back again in a heartbeat.
Kabuki, incidentally, is performed by male actors only... a characteristic it shares with the Princeton Triangle shows of the 1960's and prior. And that's about the
only
characteristic it shares with the Princeton Triangle shows of the 1960's and prior.