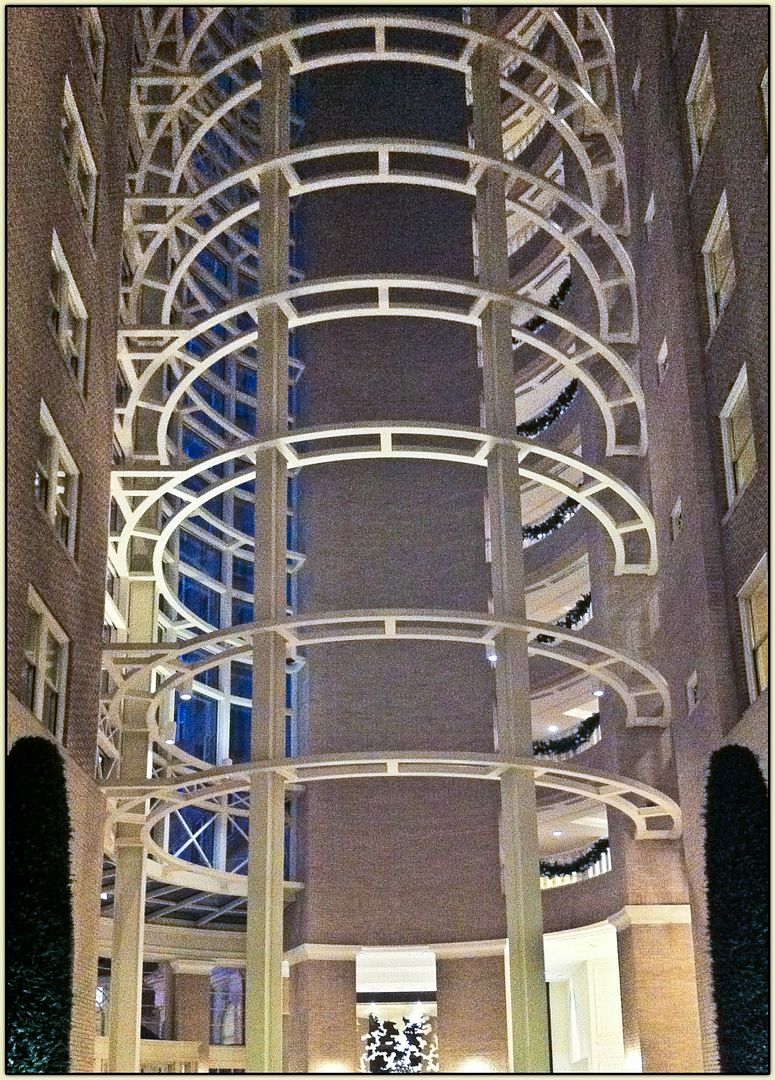 Lobby of the Georgian Terrace Hotel, Atlanta... or perhaps one of the sets for Forbidden Planet?
The Sommelier Guild's annual Champagne Holiday Celebration was held at the Georgian Terrace Hotel this evening at the hotel's Livingston Bar, directly across the street from the Fabulous Fox Theatre.
The Georgian Terrace, considered the "Grand Dame" of Atlanta Hotels, received international exposure during the fall of 1939 when it was the location for the grand opening celebration for the most famous American movie in history,
Gone With The Wind.
Happily, the wines we enjoyed were not Gone With The Wind. Not all were true Champagnes, several being from places as diverse as California, New Mexico(!), and Virginia. Most were very good; a few, excellent. Houston Steve, alas, was not there to enjoy them, but the ever-irascible
Denny
proved to be a most companionable tablemate.
Speaker's Wine:
Caposaldo Prosecco Brut NV, Veneto, Italy
First Flight
DuVal - Leroy Brut, Champagne, France NV
Pierre Morlet Brut "Grand Reserve" NV**
Veuve Clicquot Ponsardin Brut NV***
Wild Salmon Tartare, Grilled Shrimp Skewers, Sweetgrass Dairy Goat Cheese Truffles
Second Flight
Gruet Rosé NV, New Mexico*
Kluge Brut Rosé 2005, Albemarle County, Virginia
Domaine Carneros Brut Rosé NV, Carneros, California***
Vidalia Onion Tarts, Shaved Duck Prosciutto, Grilled Chicken Skewers
Third Flight
Moet & Chandon "Dom Perignon" 2002, Champagne, France***
Pol Roger "Sir Winston Churchill" 1998****
Bollinger "R. D." 1997*****
Fresh Mozzarella, Citrus Poached Shrimp, Peekytoe Crab Louis
Dessert
Ricossa Moscato d'Asti 2009, Piedmonte, Italy
Mousse au Chocolat
Lagniappe:
Caymus Napa Valley Cabernet Sauvignon 2002***
The third flight was about as good a selection of sparkling wines as I have ever had. It's hard to say enough about a flight in which Dom Perignon was a weak third, a powerful testament to the quality of the other two wines. The Bollinger may have been the best Champagne I have ever tasted... and well it should be. Both it and the Pol Roger go for about $250 the bottle.
All in all, an excellent evening. What better way to celebrate my mother's 83rd birthday?