"Now, hold on, Mr. Potter. You're right when you say my father was no businessman. I know that... Do you know how long it takes a working man to save five thousand dollars?" - George Bailey (Jimmy Stewart),
It's a Wonderful Life
(1946)
Hogwarts School of Witchcraft and Wizardry, the centerpiece of the Wizarding World of Harry Potter at Universal Orlando Resort.
In the world of Frank Capra's iconic Christmas movie, Mr. Potter is a ruthless businessman... and George Bailey, when given a glimpse of the world that would have come to pass had he never been born, sees Potterville, a town full of miserable, grasping people who seek oblivion in cheap beer.
In the
Wizarding World of Harry Potter
- a new attraction at Universal Orlando Resort - Mr. Potter is a student at Hogwarts School of Witchcraft and Wizardry... and a ruthless businessman in an attraction full of excited, grasping tourists who seek oblivion in costly Butterbeer.
When She Who Must Be Obeyed first heard that a Harry Potter-based attraction had opened at Universal, she practically wet herself with excitement. SWMBO and I have both read and enjoyed the entire Potter
oeuvre
, but what she brings to the party is a deep and abiding love for the Theme Park. The Wizarding World of Harry Potter, combining as it does the characters and scenes from the Potter books and films with the Park Experience, brings the Missus about as close to nirvana as is possible on this planet.
We've done the Theme Park thing before. Back in the 1980's, we visited Disney World not once, but
three
times. The first time was with Elder (then Only) Daughter, SWMBO being heavy with child at the time. Both Elder Daughter and the young Mistress of Sarcasm were with us for the next two visits. We saw Sea World then, too. Lots of fun, but it was enough to cap the well on any Disneygoing urges I might have had. And then, five years ago, we visited the Universal Studios Hollywood park with our friends Dennis and Deborah and had a blast. So, with a week of vacation looming in the middle of September, we laid our plans to spend some time with Mr. Potter and his friends in the sweaty midsection of the Sunshine State.
You've gotta give the Universal folks credit. With their film studio cred, they've got the tools and know-how to create a faithful movie-set environment down to the smallest detail. When you are wandering the lanes of Hogsmeade, staring up at the impressive Gothic hulk of Hogwarts looming above you, you really feel as though you've stepped into Harry's wizardly world. Or, at least, a Harry Potter movie set. Only the contrast between the snowy roofs and the 92°F surroundings reminds you that you are still rooted firmly in Muggle-Land.
Of course, the Theme Park Environment is filled with, as Cyril Kornbluth so masterfully put it in "The Advent on Channel Twelve," his 1958 satirical swipe at the Disney empire, "a thousand catchpenny engines." Step into Honeyduke's, the wizardly Confectionery and Chocolate Shoppe, and you will be offered the opportunity to purchase a five-ounce "chocolate" frog for the princely sum of one sawbuck. "Chocolate," not chocolate - for, despite the misleading (and, unless I misread 21CFR163, illegal) labeling, the list of ingredients reveals that the frog is concocted not of real chocolate, but of mockolate: cocoa, sugar, and palm kernel oil. Dross for the price of gold, as it were.
Zonko's, purveyor of fine Goat Horns and Sleeve-Tats.
A wall of wands at Ollivander's.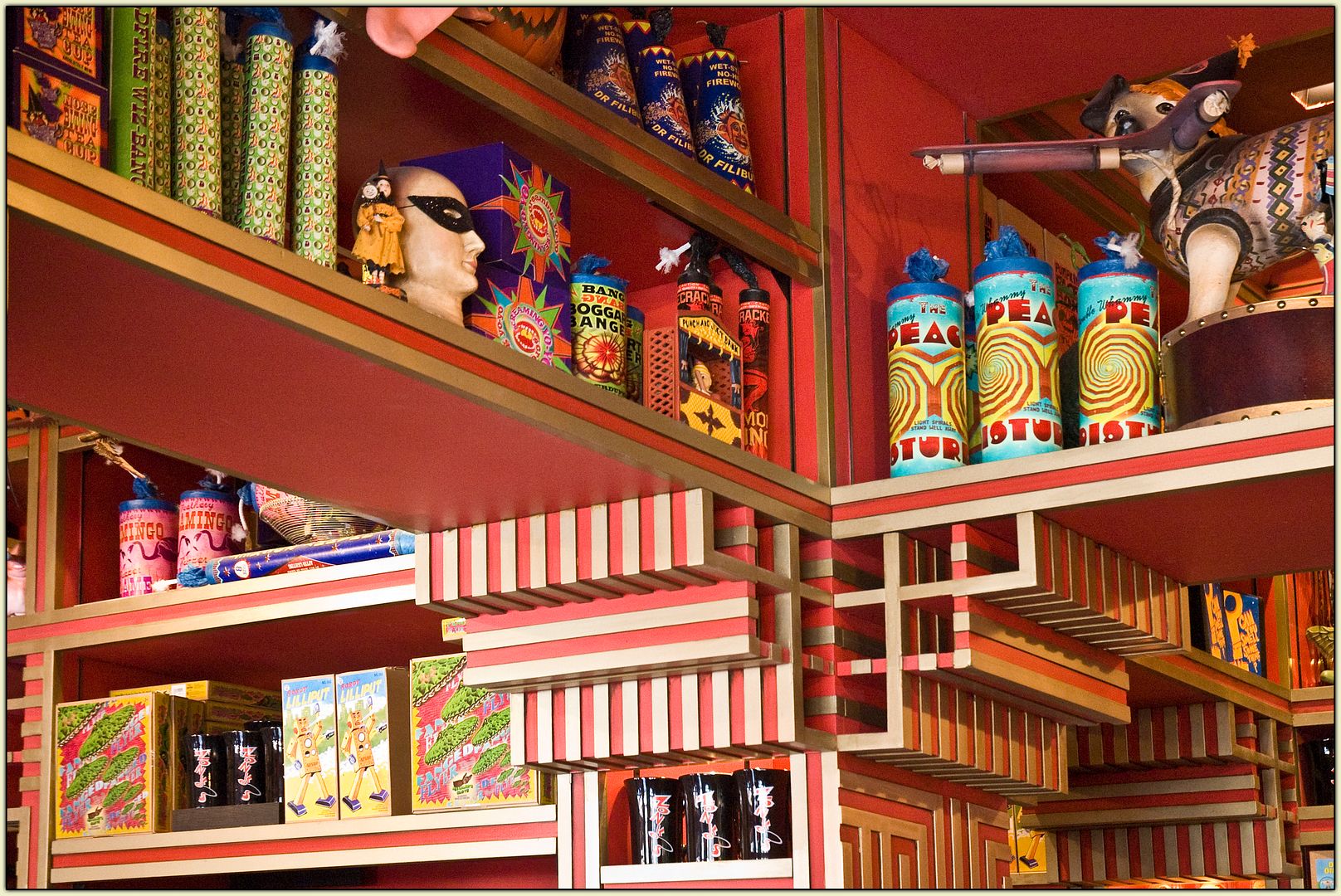 Gimcracks and gewgaws.
Adjacent to Honeyduke's was Zonko's, the practical joke shoppe familiar to those who have read the Potter books. Crammed with a cornucopia of toys, gewgaws, and gimcracks, it was the sort of place that had children standing slack-jawed, mouths agape with wonder at the mysterious Objects of Amusement piled high upon the shelves in their exotic wrappings. And no visit to Harry's world would be complete without a stop at Ollivander's, purveyor of Magickal Pointy Sticks. With a core of phoenix feathers and preserved skink tonsils encased in a mahogany-like polymeric sheath, the (replica) Harry's Wand was the perfect instrument for casting spells ("Expendio Argento!") or just flat putting people's eyes out ("Pointy Stickio!")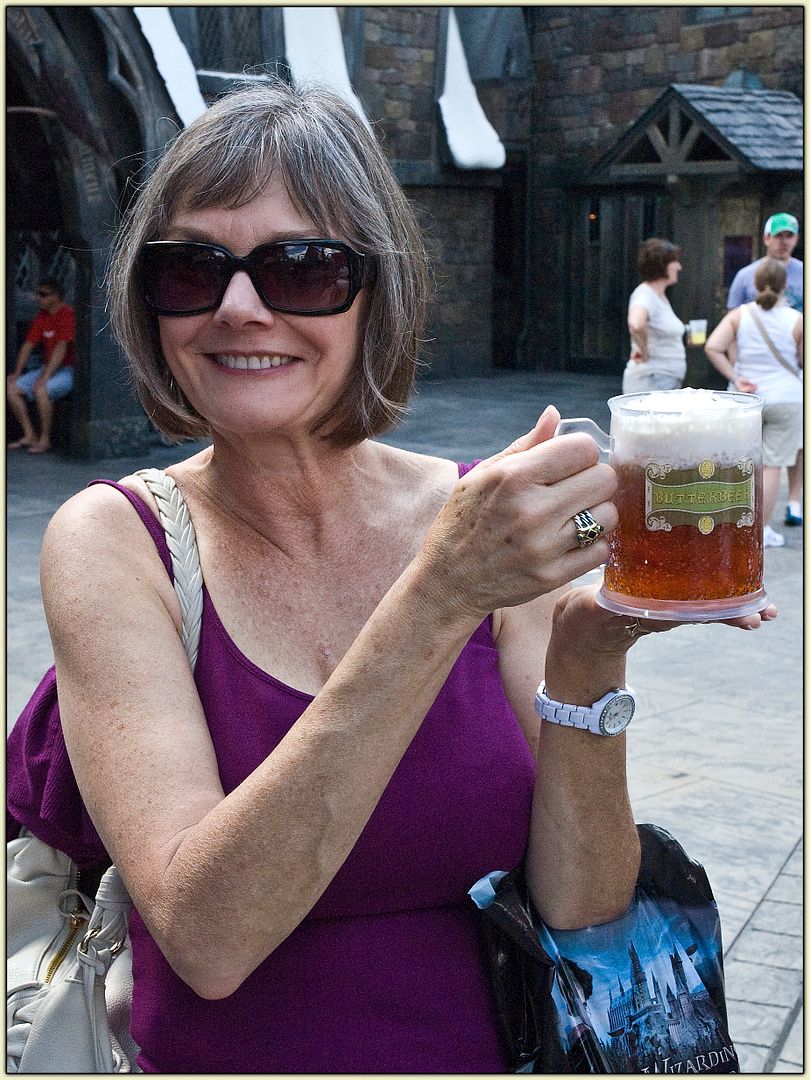 Butterbeer!
The Butterbeer - really, a sort of root beer/butterscotch/cream soda amalgam with a creamy topping by way of a head - was tasty enough... as well it should have been, given that, ounce for ounce, it was as costly as fine Champagne. But this is a mere quibble. After all, we were adults unburdened with attendant hordes of rugrats and all their concomitant expense. Nevertheless, anyone who worries about the state of the world economy can relax: If armies of people have enough disposable income to cover trips to Universal (and all those other Central Florida attractions), then things cannot be all that bad.
Did we have a good time? Of course we did. While I have lost some of my ability to suspend disbelief - a semi-unfortunate side effect of growing older, I suppose - I am no wet blanket. And you cannot help but admire the Universal folks for their ability to create an all-enveloping, immersive sensory environment. They make the Unreal Real, albeit at a hefty fee... and it is a tribute to the child within us all that there is a market for that sort of thing.