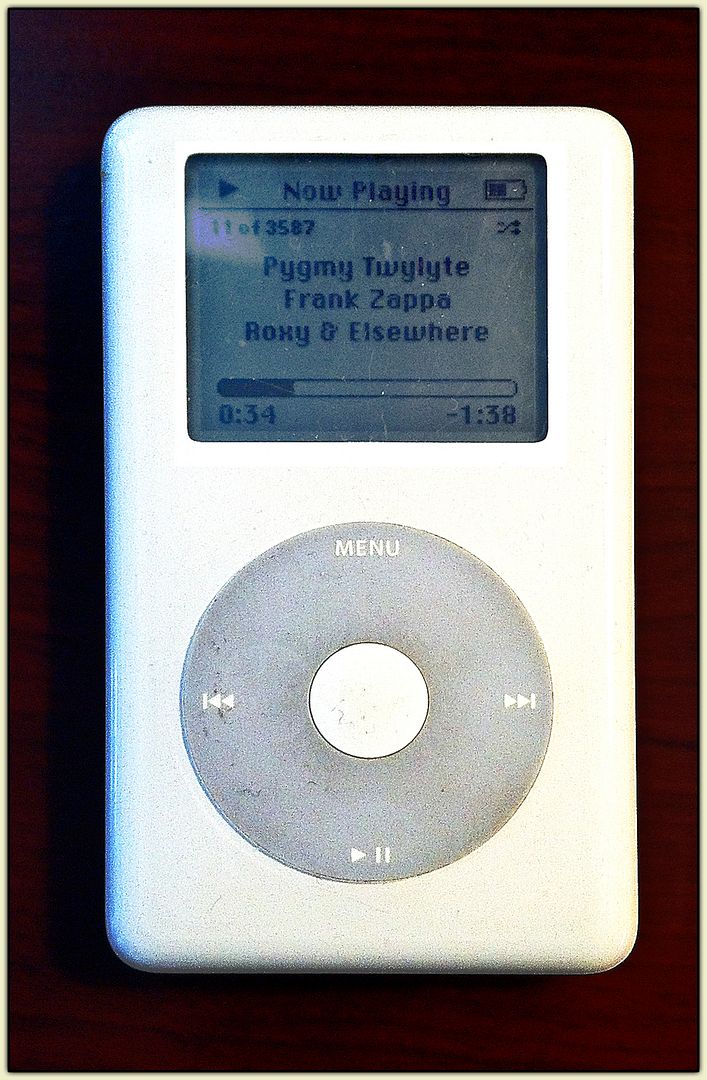 The iPod d'Elisson, AKA the Little White Choon Box.
I have been unconscionably sloppy about posting my Friday Random Ten lists in the last year or so. As I mentioned last time, that's because (1) I am lazy, and (2) I am pretty sure you, Esteemed Reader, do not give Shit One about the music I am listening to at any given moment. And that's perfectly OK.
Nevertheless, every so often I will do it anyway, even if only for the annoyance factor.
By way of a refresher, the Friday Random Ten is a list of songs generated at random (duh!) by the iPod d'Elisson when set on shuffle mode. The actual iPod - the first-generation example of the device pictured above - has also been joined in this endeavor by a few newer devices: the iPhone and the iPad d'Elisson. Think of it as a window that allows you a look into my ridiculous taste in music.
Let's see what the Little White Choon Box has for us today:
Swordfishtrombones - Tom Waits

Tom Waits for no one. Heh.


Flight of the Passing Fancy - Squirrel Nut Zippers


Act I, Scene 1: Soldiers of Heaven Hold the Sky - John Adams, Nixon in China


Stairway to Heaven - Tiny Tim

Yes, that Tiny Tim. Strangely enough, his cover of "Hey Jude" is pretty good. This one is just... weird.


Mozart: Requiem in D Minor, Communio - Lux Aeterna - Herbert von Karajan


How Do You Do? - Radiohead


I'll Be Back - The Beatles


Where's Summer B? - Ben Folds Five


Dream Gerrard - Traffic


Particle Wave - Sticklips

Tread lightly
So as not to startle
The shadow
Whose particles gather nightly
To feed on the gallows

Don't stand here
In that squalid dungeon
Whose silence
Harbors thund'rous squalls that leave me
Shaken from their violence

We believe in something
But it doesn't have a name
Our skulls are the cages built for
Beasts we cannot tame

Don't leave me
In those dirty trenches
Spoon-feed me
Whispered words to quench my thirst
And quell the hell that stillness breeds

I believe in the chemicals
Coursing through my veins
And in the electric signals
Firing in my brains

But how much can you take
How much can you take
Our skulls are the cages built for
Beasts we cannot tame
But some forces are too strong
For cages to contain

Sticklips, the brainchild of one Johanna Warren, is hard to describe - Electro-Folk doesn't quite do it, but it is as good a category as I can think of. This tune is from their second album, Zemi, which I highly recommend. You can find it here.
It's Friday. What are
you
listening to?