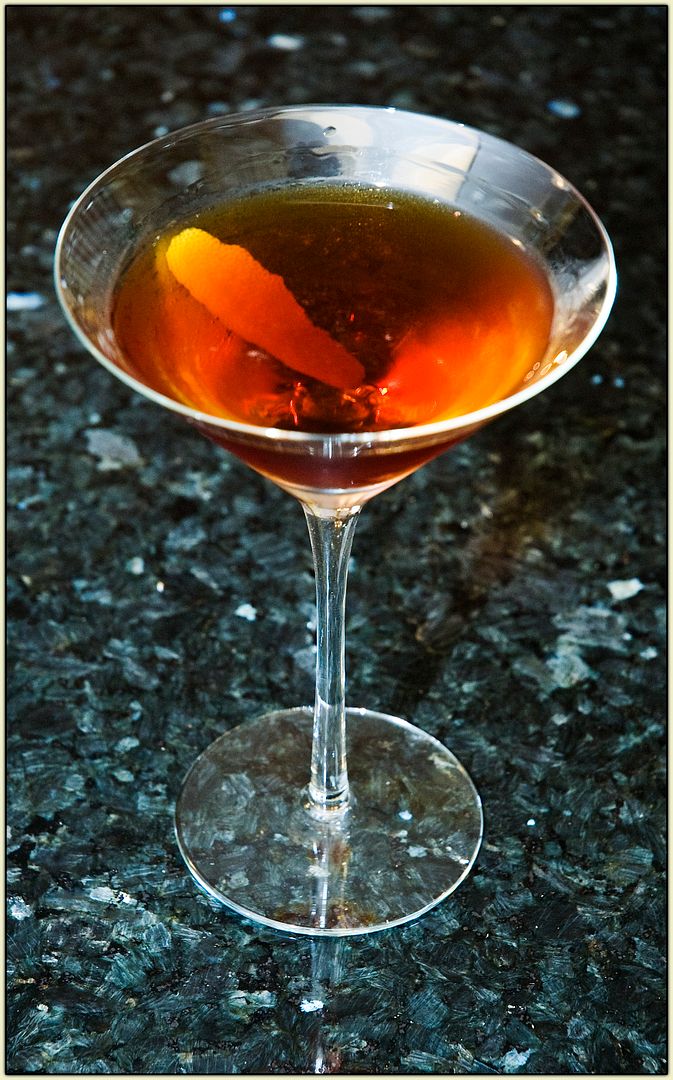 The Yellowtail. Not to be confused with the fish of the same name; there's nothing fishy about this drink.
When I was in Philadelphia several weeks ago, I stopped in at The Mildred, a new restaurant that, in addition to a fine American menu, features a bar with a fine repertoire of classic cocktails.
As soon as I saw the
real
maraschino cherry in my Old Fashioned - not one of those radioactive Red Dye #2-infused horrors - I knew I was in the right place.
The mixologist, one Dominic by name, not only made an excellent Old Fashioned, but also a superb Sazerac, seasoning the glass with heinously powerful Abyss absinthe. And he also made me one of these bittersweet beauties:
The Yellowtail
1¾ oz rye whiskey
½ - ¾ oz Averna
½ oz Luxardo maraschino
2 dashes Angostura bitters
Stir in cocktail shaker with ice. Strain into cocktail glass and garnish with a lemon twist.
The ingredient that distinguishes this baby from its cousins is the Averna, one of a class of bittersweet Italian herbal concoctions known as
amari
(singular:
amaro
). It's a medium
amaro
, not quite as bitter as fernet, but with a lot more punch than its juvenile German cousin Jägermeister. A shot of Averna is a perfect
digestif
after a big meal... better than Bromo-Seltzer any day.
Like any cocktail in which bitters are not merely a bit player, this is not anything like those kiddie faux-Martinis that have recently overpopulated the Tipple-Circuit. If your taste runs to appletinis and Cosmopolitans, perhaps you'd better look elsewhere - this drink will scrape the fuzz off a Fuzzy Navel and set fire to it.
When I think "yellowtail," I'm usually ordering sushi. But I have a suspicion that I will be ordering a few more of these bad boys down the road.