Today at the little luncheon following morning services - it's Sukkot, so we get the full-blown holiday treatment today and tomorrow - I noticed something new.
The usual spread on a day like today would be a pile of bagels and a few assorted flavors of cream cheese spread. Nothing special, in other words. But today there was a veritabobble feast set out: bagels; bagel chips; the normal assortment of cream cheeses; tuna and egg salads; chunks of gefilte fish along with beet horseradish; a nice green salad; sliced tomatoes, cukes, onions, and bell peppers; and various pastries.
Still well within the bounds of normality, mind you... but certainly on the nice side.
But what got my attention was the pastries.
I try to ignore 'em most of the time, and most of the time I'm successful. The luncheons are catered by the Local Bagel and Smoked Fish Emporium, and while the bagels and fish are invariably top-shelf, the other baked goods - rugelach, mandelbrot, brownies, cookies,
et alia
- are completely forgettable. And that is fine with me. Who needs the temptation?
Today, however, things were different. There were delicate little slices of flaky apple strudel with raisins that melted in the mouth. There was rugelach, buttery and rich, that may have been the best I've ever tasted. There were cookies, too - but why screw around with cookies when there were all these other goodies?
I was at a complete loss to explain it, but the rabbi cleared up the mystery when he asked what I thought of the Emporium's having hired a new baker. Aha!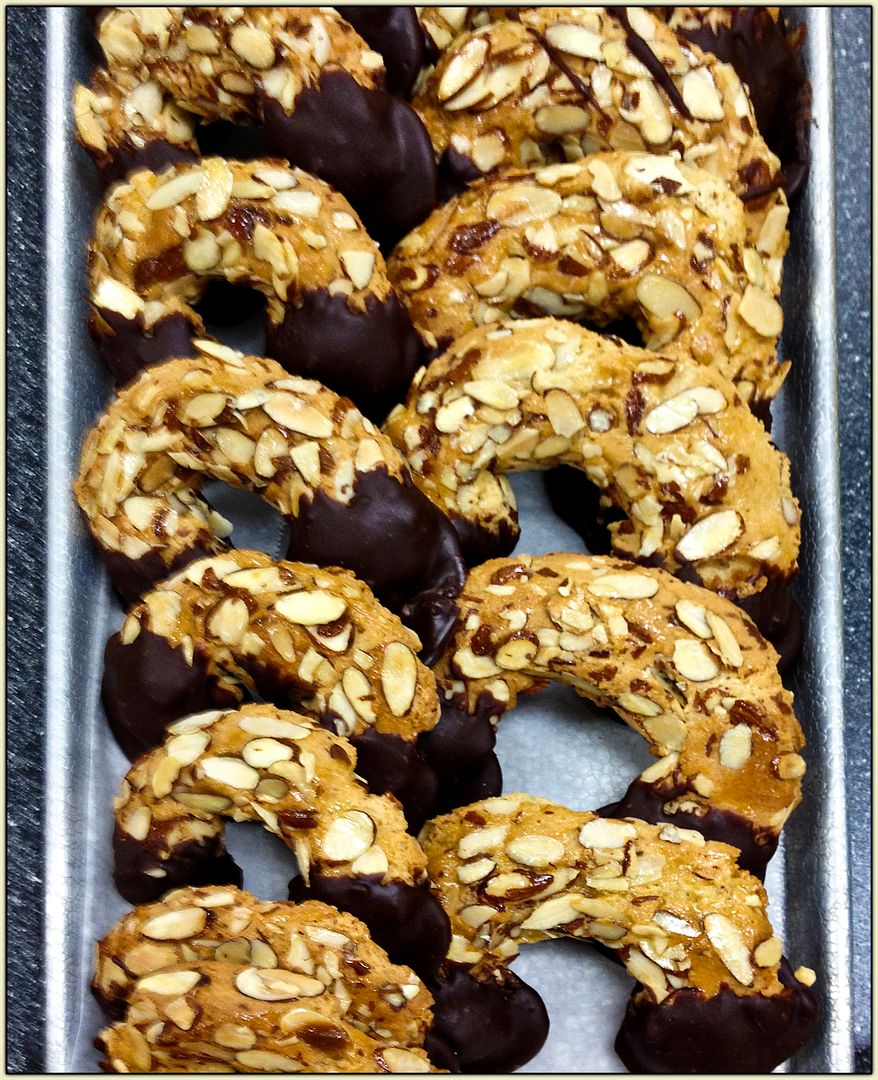 Me so Almond Horny! Fresh-baked almond horns await the eager grasp of happy customers.
That would explain the sudden appearance of almond horns at the Emporium. I had seen a tray of those deadly little fellows last time I breakfasted there, and it had caused me no end of anguish at the time. I dearly loves me an almond horn, with its sweet taste of marzipan and dollop of chocolate glaze... but getting into the habit of eating almond horns is a sure route to Fat-Ass Country.
So now the Emporium has taken their pastry game to a new level. They've raised the stakes, as it were, by bringing in the Special (Bakey) Forces.
Oy. Just what we needed.