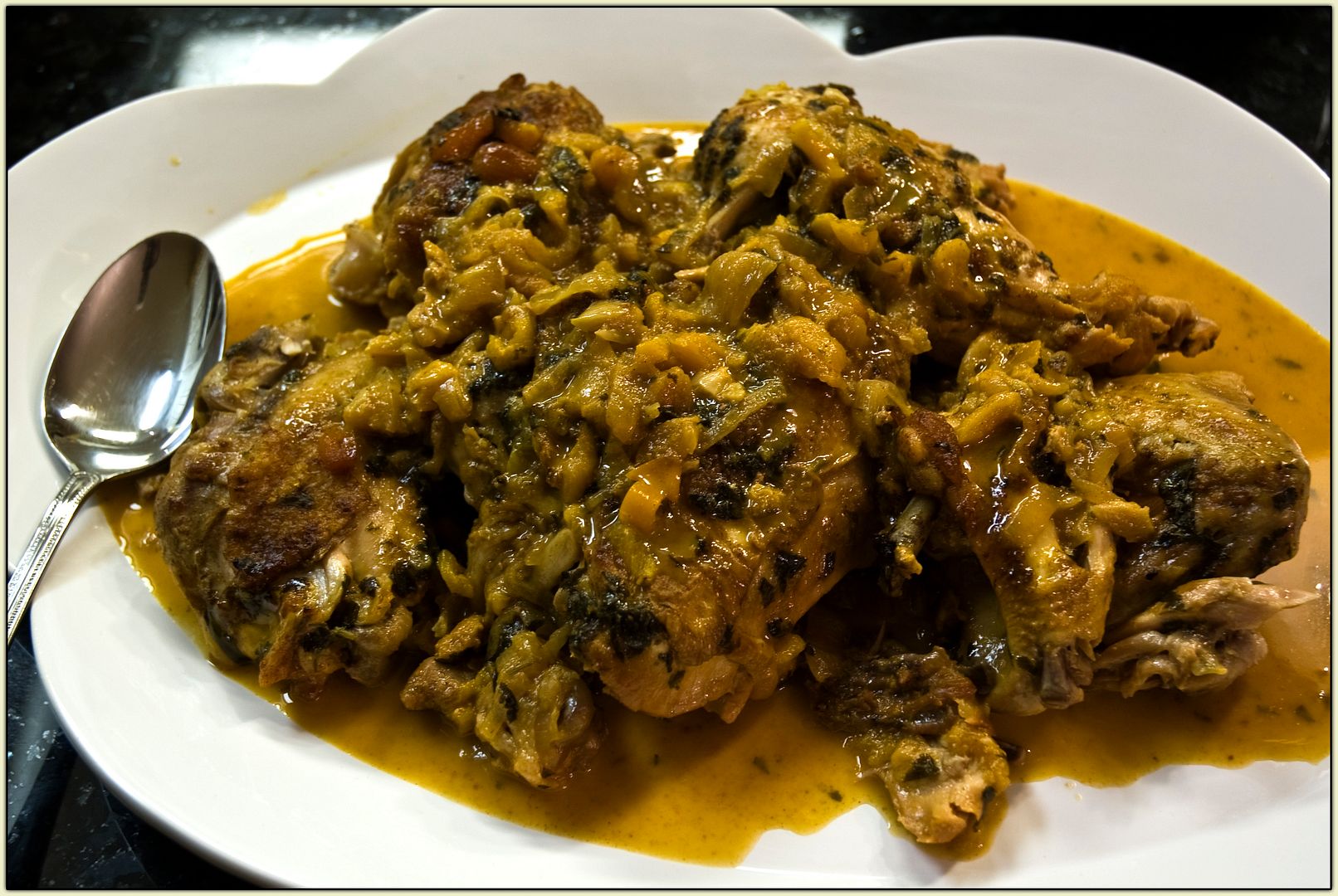 Chicken tagine with apricots and preserved lemon.
It's always a treat tasting familiar proteins in unfamiliar garb. Our friends Barry and Malka put on a big Moroccan-style feed every so often, and the featured dish is usually a kind of
tagine
, a type of stew cooked in a specially-designed earthenware vessel called - you guessed it - a
tagine
.
A tagine consists of a round base upon which sits a removable conical lid with a central vent. The lid allows steam to condense and drip back down into the base, where it helps keep the dish moist.
Thanks to the Internet, you can score a real Moroccan tagine while sitting in front of your computer in your Thomas the Tank Engine jammies for less than you'd spend at a souk in Morocco. But to cook a tagine, you don't need a chunk of weird North African pottery that will take up space in your kitchen cabinet 360 days of the year. A Dutch oven with a lid will do just fine.
I decided to try my hand at making a chicken tagine a few days ago. The Missus and I didn't want to eat anything beefy that night, and JoAnn was going to bring fish. We hadn't had poultry in a while. Why not chicken? And why not do something with a bit of exotic spice to enliven what can otherwise be a bland protein?
I had a handy shortcut in the pantry, a small tin of Williams-Sonoma tagine spices comprised of paprika, cinnamon, ginger, and saffron. After toasting a couple of tablespoons of the spice blend in a small skillet, I added enough olive oil to make a smooth paste. Into this went a couple of crumbled bay leaves and four garlic cloves, peeled and mashed flat with the back of my chef's knife.
Enter Mr. Chicken, a good-sized, meaty roaster that I had dismembered with my handy-dandy poultry shears. Everything but the backbone (set aside for the stockpot) got coated with the spice mixture and left to marinate for a couple of hours.
Now it was time to take out the Dutch oven, AKA my makeshift tagine. A goodly squirt of olive oil, a warmup over a medium-high flame, and in went the spice-coated chicken to brown. After about ten minutes, I added a sliced yellow onion (use two if they're small) and sweated that down. Once the onion was soft and translucent, I added about a half-cup each of chopped cilantro and chopped parsley, a handful of dried apricots cut into half-inch dice, and two segments of preserved Meyer lemon, also cut into half-inch dice.
Ahh, preserved lemon. You make this by combining chunks of lemon with lemon juice and plenty of salt, then letting 'em ferment for a few weeks. The peels get nice and soft and the whole mess becomes a concentrated source of lemony goodness.
Some versions of this recipe call for the inclusion of olives, but I was after that sweet-sour apricot-lemon vibe, so I omitted anything remotely resembling an olive. At this point, all I had to do was put the lid on the Dutch oven and let it sit over a medium-low flame for an hour and a half. But instead, I opted for sticking the whole thing in a 325°F oven.
After ninety minutes, the onions, apricots and lemons had broken down and the juices exuded by the simmering chicken had developed into a rich, delicately scented sauce. Hoo-
hah
! My tagine was almost ready to serve.
Almost
.
Traditionally, a tagine is served over
couscous
, a grain-like pasta. I opted instead for quinoa, a pasta-like grain. Quinoa has a texture similar to that of couscous, but it has a much higher protein content. Cooking it is a lot like cooking rice: stick it in a pot of water, bring to a boil, and simmer, covered, for 10-15 minutes. Easy-peasy.
So there it was: an aromatic chicken tagine and a bed of quinoa upon which it could rest to soak up any wayward juices. A scattering of chopped cilantro and it was all ready to serve forth.
And, boy howdy (as they say in Marrakech), was it tasty good. Without the weird North African pottery, too. But calling it "Chicken Dutch Oven" wouldn't quite do it justice, would it?