I used to love my bowl of cereal at breakfast time.
Où sont les petits déjeuners d'antan?
Whether hot (steel-cut oatmeal, Wheatena) or cold (Weetabix, Grape-Nuts, Cheerios, or whatever was handy), a cereal-based breakfast was always a quick and easy option for the morning meal. (Well, OK - for steel-cut oats, maybe not quite so quick.)
But four years ago, I made a major change to my eating regimen, and carby breakfasts mostly became a thing of the past. Sure, I'll still indulge in the occasional pancake or waffle, but the regular consumption of cereals is something I have, albeit reluctantly, had to leave behind.
On those mornings when I dine at home - I am a frequent breakfaster with the Minyan Boyz - I find myself making myself a two-egg omelette more often than not. An omelette is packed with protein and does not have to be a calorie bomb if properly made. With just enough breadstuff served alongside it to balance the protein, it is the ideal morning repast.
Some days, I use a bit of ghee - clarified butter - to line my skillet, and I add to the eggs fresh herbs and/or some grated cheese: Cabot clothbound cheddar, asiago, or Parmesan. Other times, I go the Japanese route, adding soy and
hanakatsuo
(shaved bonito), with a final dusting of powdered seaweed and
nanami togarashi
. But on days when I want something with a bit more zing, it's time for
Elisson's Spicy Hot Indo-Sichuan Eggs
.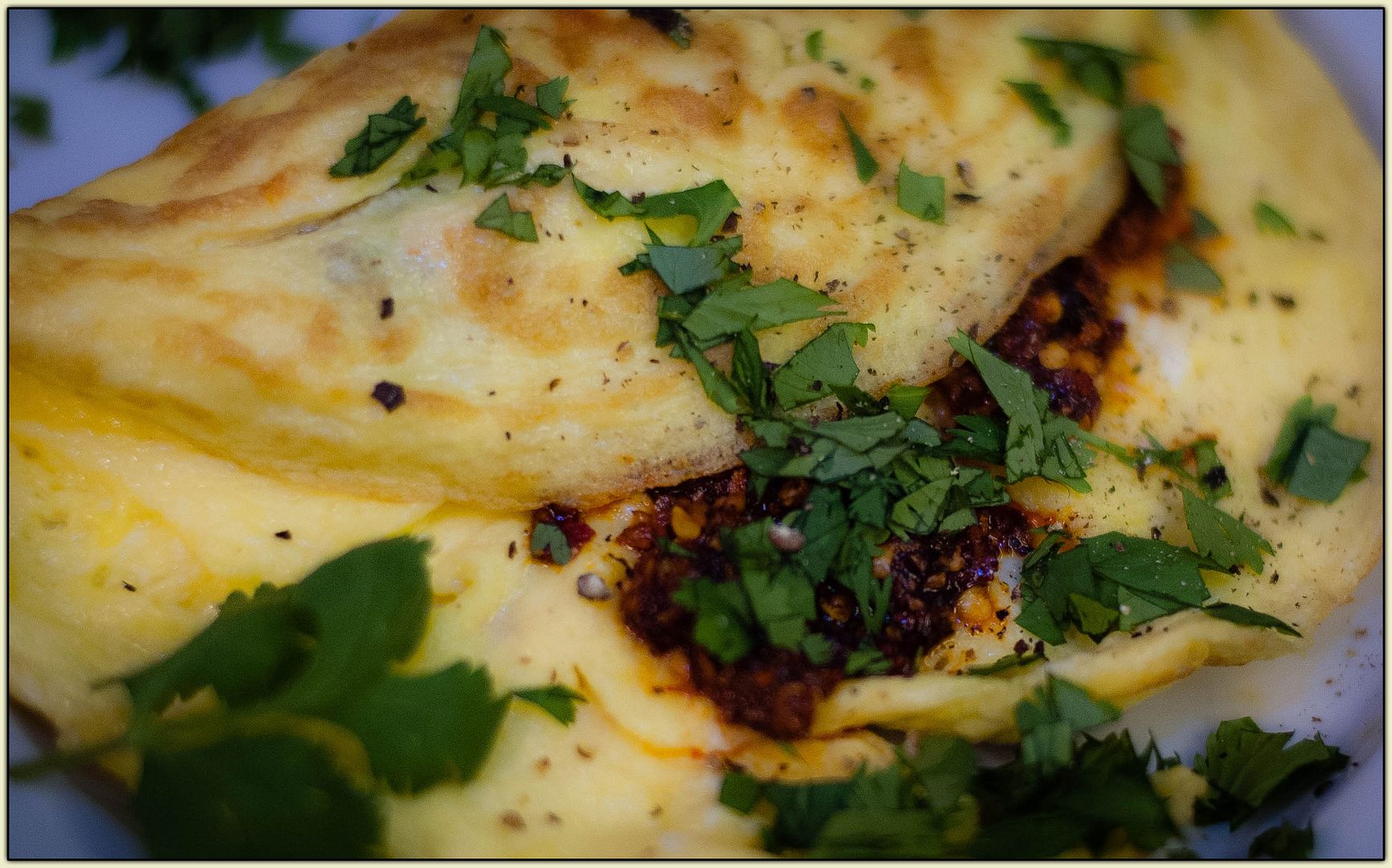 Spicy Hot Indo-Sichuan Eggs.
I start with my
homemade Chinese hot oil
(
hong you
), infused with star anise, garlic, black cardamom, cloves, cinnamon, ginger, Sichuan peppercorns, and a small mountain of árbol chiles. One teaspoon goes in with the eggs and another to slick the pan. When the eggs have set enough, I'll flip 'em to cook the top side just until set, then flip 'em back over and trowel on a couple teaspoons of
sambal udang bercili
, a fiery Indonesian condiment packed with hot chiles and tiny, crispy dried shrimp. (Well, I never said this was kosher.) Fold it over, slide it out onto a plate, decorate with some chopped cilantro, and - Bukittinggi's your uncle - you've got a breakfast that will warm you going in, going down, and - quite possibly - going out. It's a real wake-up call on a plate.
Damn, it's tasty. Try some... if you dare!