"It's crackers to slip a rozzer the dropsy in snide."
- Magersfontein Lugg
The Seed 75 cocktail, a perfect way to use that bottle of Old Tom gin you have in the back of your Booze-Box. (What, you don't have a bottle of Old Tom gin in the back of your Booze-Box?)
One of the nicer local eateries hereabouts -
Seed Kitchen and Bar
- offers a cocktail called
Capture the Flag
, a concoction that includes Maestro Dobel tequila, lemon juice, a house-made port-pineapple syrup, and Ramazzotti, the last being an Italian
amaro
. It's probably the Missus's favorite cocktail, and I can't say I blame her for liking it as much as she does. It is sweet, but not overly so, and it has layer upon layer of flavors. Oh, and it also packs a wallop, something to watch out for, as that alcoholic fist is well disguised in a highly drinkable glove.
The only problem I see with this Adult Beverage is that I cannot, as yet, make it at home - that is, until I manage to convince one of the bartenders at Seed to fork over the recipe for the port-pineapple syrup. But in the meantime, there is another tipple on offer there that I can make at home: the
Seed 75
. And it is a fine drink. It's simply Hayman's Old Tom gin, lemon juice, and pomegranate grenadine. The last one I made, I used 2 ounces gin, the juice of half a Meyer lemon, and a scant ounce of my
homemade grenadine
, and it was superb. (You really need to use an Old Tom gin for this; the more familiar London dry gin style doesn't really work.)
What to eat while you're sipping on your Seed 75? How about some
Cheesy Smoked Paprika Crackers
, courtesy of those fine folks over at
Serious Eats
? I ran up a batch of these bad boys a few days ago and now I'm regretting it, for they are powerfully addictive.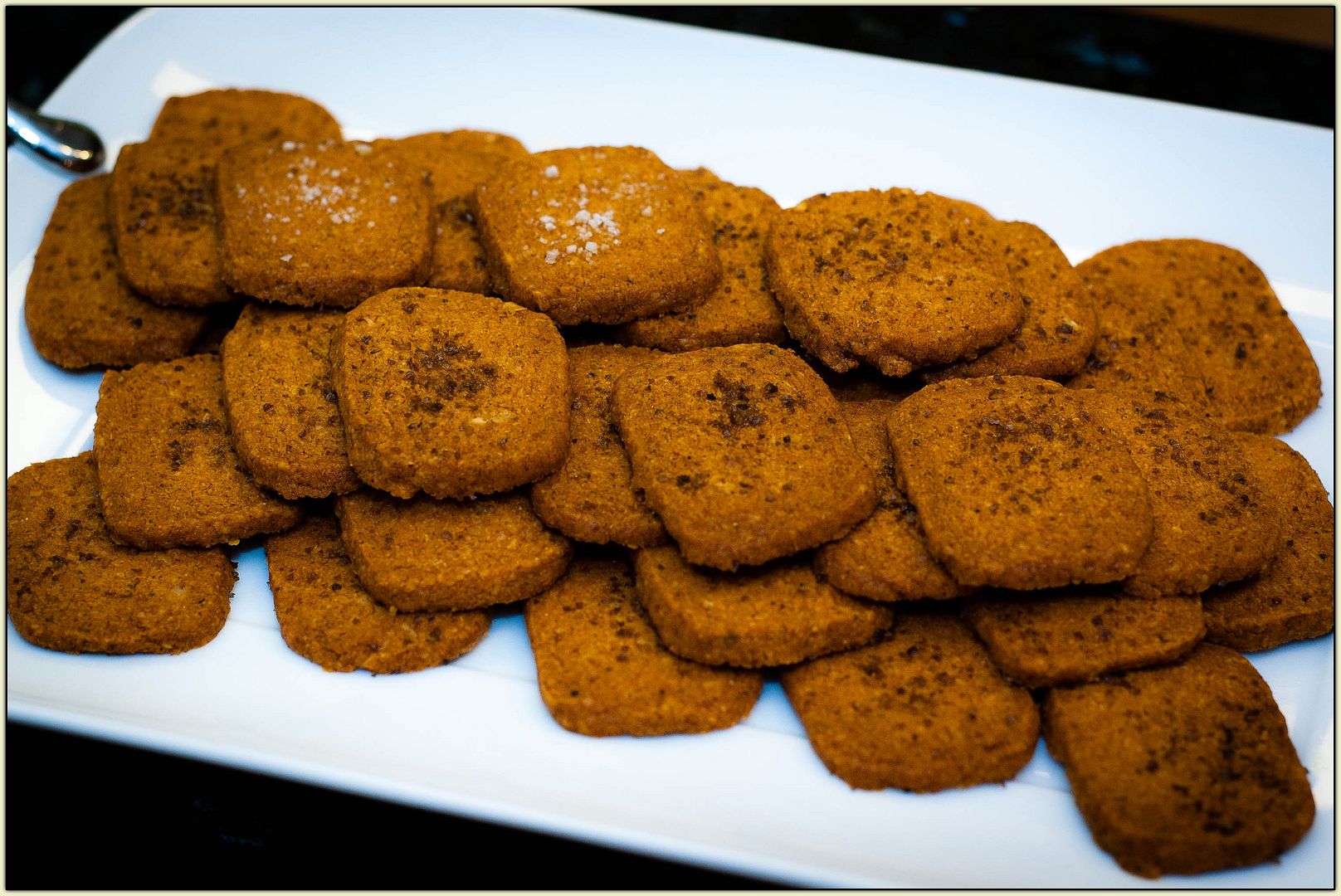 Cheesy Smoked Paprika Crackers. These decadent little bastards are sprinkled with smoked sea salt and fleur de sel.
Postscriptum:
The quotation above will be familiar to anyone who read
Mad
magazine in the 1950's or early '60's. It was a recurring catchphrase - at least, in
Mad
- that had been lifted from
The Fashion in Shrouds
(1938), one of Margery Allingham's Albert Campion crime novels. It means, "It's crazy to pay off a cop in phony money," in case you're curious.
Postscriptum the Second:
See that tray of crackers? There were a handful of 'em left over from Friday evening, nicely wrapped for future use. But not any more. (Urp.)