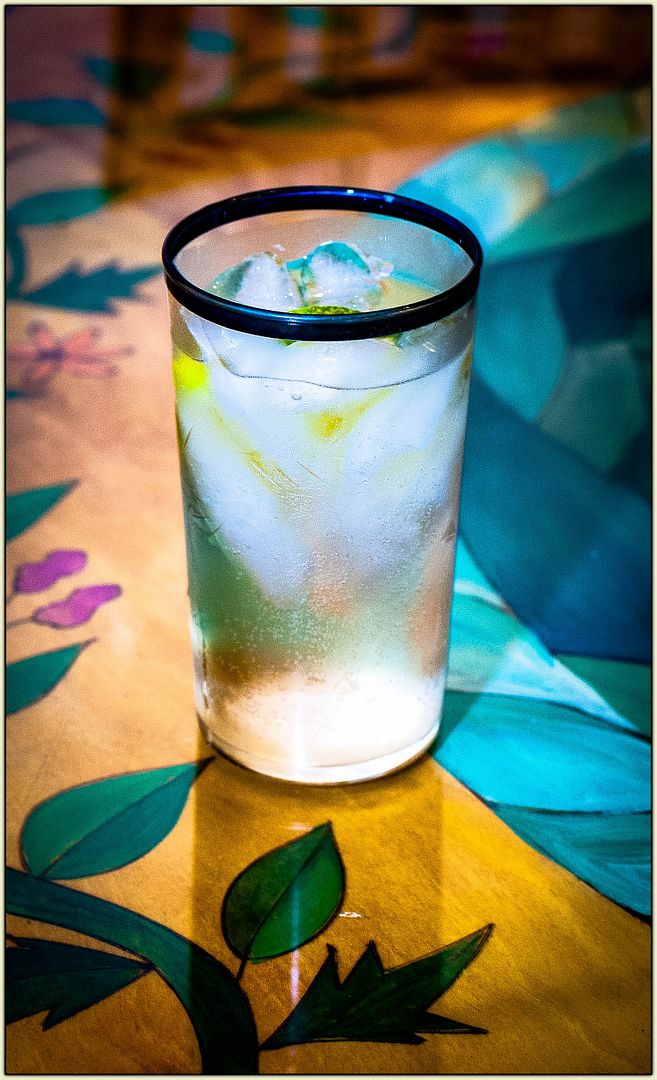 The Sarah Lewis Memorial Gin & Tonic.
Alas, one of the unpleasant surprises of this year's Penitential Season was the unexpected passing of our
rabbi's mother
, who departed this world the Tuesday before Yom Kippur.
Instead of conducting services here, where he had not missed a Yom Kippur for 36 years, our rabbi found himself dealing with Matters Funerary in New Jersey. After the holiday, he returned to Atlanta, where a packed house awaited him for evening services last night, giving congregants the opportunity to offer their condolences.
One of the stories he told about his late mother was that she had expressed an interest in trying out a cocktail that she had recently heard of, Gawd only knows where. She was not a drinker by any means, but at the age of 92 she was ready to throw caution to the winds and try this Great New Thing... a Gin & Tonic.
Yes! A good old G&T! (If you've never tried one, it's new to you!)
The necessary supplies were procured, including a bottle of Gordon's gin. But alas, she passed away before she had a chance to taste of it. (Given that the gin was Gordon's, it is possible that she was better off.)
When we got home after that evening minyan, the Missus knew that it would be entirely appropriate to toast this extraordinary woman with the Gin & Tonic she
should
have had:
The Best Honkin' G&T Ever
1¾ ounce Nolet's gin
½ ounce Jack Rudy tonic concentrate
Ice
Soda water
Combine the gin with the tonic concentrate in a highball glass with ice. Add soda water; stir well. Garnish with a slice of lime.
I love the way the Nolet's plays off of the bitterness of the tonic. You can use any brand you really like, of course, but since discovering Nolet's, I have made it my go-to gin for this particular tipple. And the Jack Rudy tonic has all sorts of subtle flavor notes that Schweppes tonic (a serviceable alternative) just does not bring to the table.
As for the late Sarah Lewis z''l,
ave atque vale!
May her memory be for a blessing... we'll drink to that.