Given that this Friday just past - the opening shot of Labor Day Weekend - was SWMBO's birthday, you can pretty much assume that the whole of the last three days has been one orgy of Face-Stuffage.
For the Missus's birthday supper Friday evening, we had a two-entrée extravaganza. Chicken with roasted red peppers, artichokes, and capers... and if that were not enough protein for you, there was a glazed bison meatloaf.
It's not a birthday without cake, and this time I decided on a French apple cake. It's a recipe from the latest Cook's Illustrated, one that was test-piloted a few weeks back by none other than
Eric
, the Tennessee Renaissance Man himself. And dayum, was it tasty.
French apple cake.
Custardy and apple-y on the bottom, cakey on the top - it's almost like having two cakes in one. Kinda sorta.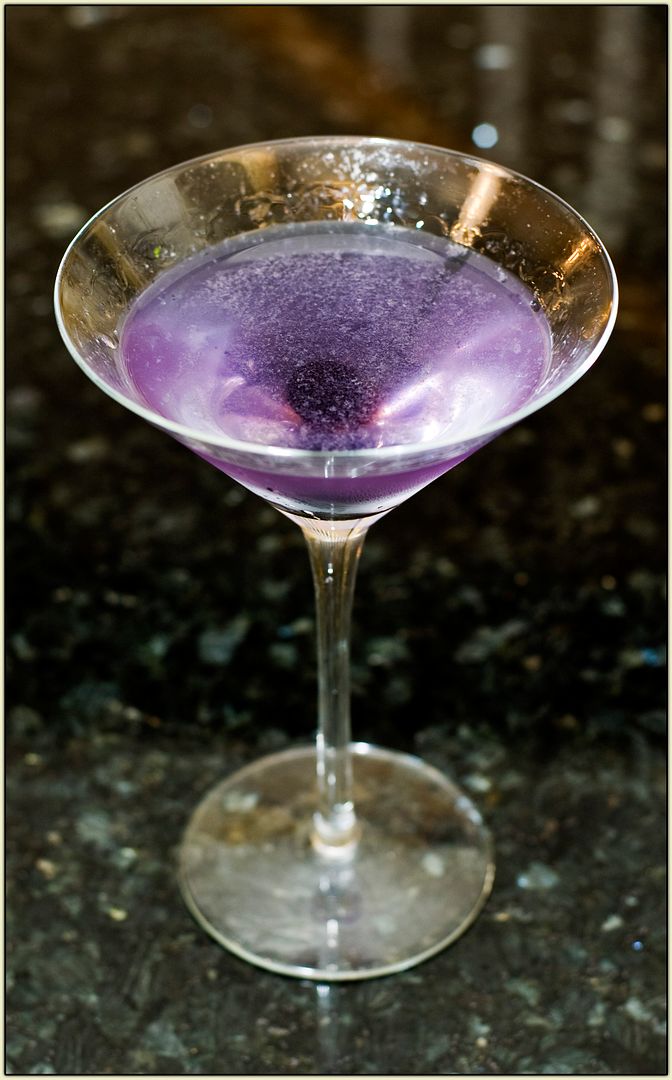 It ain't a party without a nice Adult Beverage. Pictured: the Aviation Cocktail, bedecked with Luxardo maraschino cherry.
If we had simply stopped eating after Friday evening,
dayyenu
- that would have been enough for us. But no. There was more. There was a wonderful Sunday brunch with our friends Barry and Malka, featuring traditional Israeli dishes like
shakshouka
- poached eggs in a tomatoey, chile peppery sauce - and all manner of cheeses and smoked fish.
There was even more after that.
Monday, I decided to treat myself to a nice plate of pastrami and eggs, using some of the beef pastrami I had made last week. Listen: Corned beef hash has its partisans, as do other Breakfast Meats like the Taylor pork roll, bacon, sausage, you name 'em. But if you have never had pastrami and eggs, you have truly missed out on one of the great breakfast dishes of all time. And like Levi's Real Jewish Rye Bread,
you don't need to be a Red Sea Pedestrian
to enjoy it.
The peppery, smoky aroma the meat gives off as it browns in the pan conjures up images of the great New York delis. Katz's. Sammy's Roumanian. The Second Avenue Deli. Shmulke Bernstein's.
Pastrami and eggs.
Ham and eggs? Biscuits and gravy? Shrimp and grits? This stuff kicks their asses like a red-headed stepchild... and you can take that to the bank.