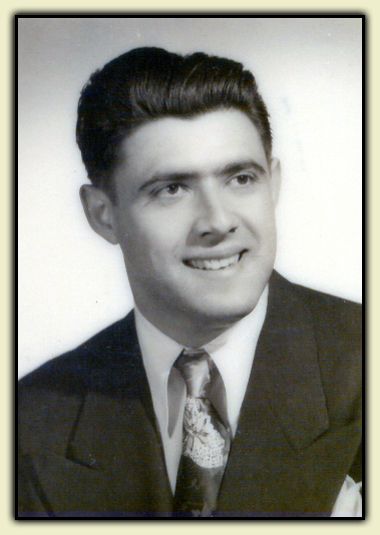 Eli (1925-2014) in his college graduation photo.
Today, the twenty-fifth of the Hebrew month Adar, is my father's Yahrzeit - the anniversary of his death.
There are traditions to be observed. When the day begins, we light a memorial candle, a candle that will burn at least 24 hours. Watching it flicker on the mantel in the darkened family room always makes me think of the transience of life while simultaneously reminding me of the soul's eternal nature.
At sunrise I attend the morning service. I recite the ancient words of the Kaddish, a doxology that, despite its association with mourning and bereavement, makes no mention of death. And I intone the mournful litany of the Memorial Prayer.
After services, I treat the minyan crowd to breakfast - my way of thanking them for ensuring that enough people are present at services. It's a peculiar local custom, but one I enjoy. (We observe birthdays the same way.) Today is a bit different because we have an appointment which requires that we postpone our group breakfast, but them's the breaks.
All this rigmarole is intended to keep alive the memory of our Departed Ones, and I therefore cherish it... but, strictly speaking, it is unnecessary. For I keep Dad's memory alive in so many little ways.
I see traces of his hand in my signature. Traces of his wit in my shaggy dog stories, poems, and horrible puns. Marks of his creativity in our daughters. And certain tunes - the ones he would play on the grand piano that graced his home for as long as I can remember - always bring a tear to my eye and a lump to my throat.
The Memorial Prayer
Eil maley rachamim, shokhein bam'romin, ham'tzei m'nuchah n'khonah tachat kanfei ha-sh'khinah, b'ma-alot k'doshim u-t'horim k'zohar ha-rakia maz-hirim, et nishmat avi v'morati Eliyahu ben Ya'akov she-halakh l'olamo, b'gan eiden t'hei m'nuchato. Ana, ba'al ha-rachamim hastireihu b'seiter k'nafekha l'olamim, utz'ror bitz'ror ha-chayyim et nishmato, Hashem hu nachalato, v'yanuach b'shalom al mishkavo, v'nomar amen.
Exalted, compassionate God, grant perfect peace in Your sheltering Presence, among the holy and pure who shine with the splendor of the firmament, to the soul of my my father and teacher Eli, son of Jacob, who has gone to his eternal home. Master of mercy, remember all his worthy deeds in the land of the living. May his soul be bound up in the bond of life. The Lord is his portion. May he rest in peace. And let us say: Amen.