"Out, damned spot!" - Lady Macbeth (
Macbeth
, Act V, Scene 1)
"Will all great Neptune's ocean wash this blood
Clean from my hand? No; this my hand will rather
The multitudinous seas incarnadine,
Making the green one red." - Macbeth (
Macbeth
, Act II, Scene 2)
* * *
Every once in a while, I indulge my love of the Beet-Root.
Whole
Paycheck
Foods generally offers a fine selection of beets - red, golden, and, occasionally, the pink-and-white chioggia - and it is there that I will pick up a few softball-sized specimens when the Beet-Urge strikes. A softball-sized beet, we should note, is reasonably humongous.
Most often, I will rinse said beet to remove surface dirt, wrap it in aluminum foil, and then roast it at 350ºF for 75-90 minutes. Once it cools enough to be handled, I remove the skin by rubbing it off with paper towels - way easier than using a potato peeler on a raw beet. Then it is a simple matter of hacking the root into large dice and seasoning to taste. (I like to douse beets in sherry vinegar, give them a liberal sprinkle of orange zest and tarragon, a pinch or two of kosher salt and freshly ground black pepper, and then a drizzle of olive oil. Add some goat cheese and/or a few orange segments if you want to get fancy.)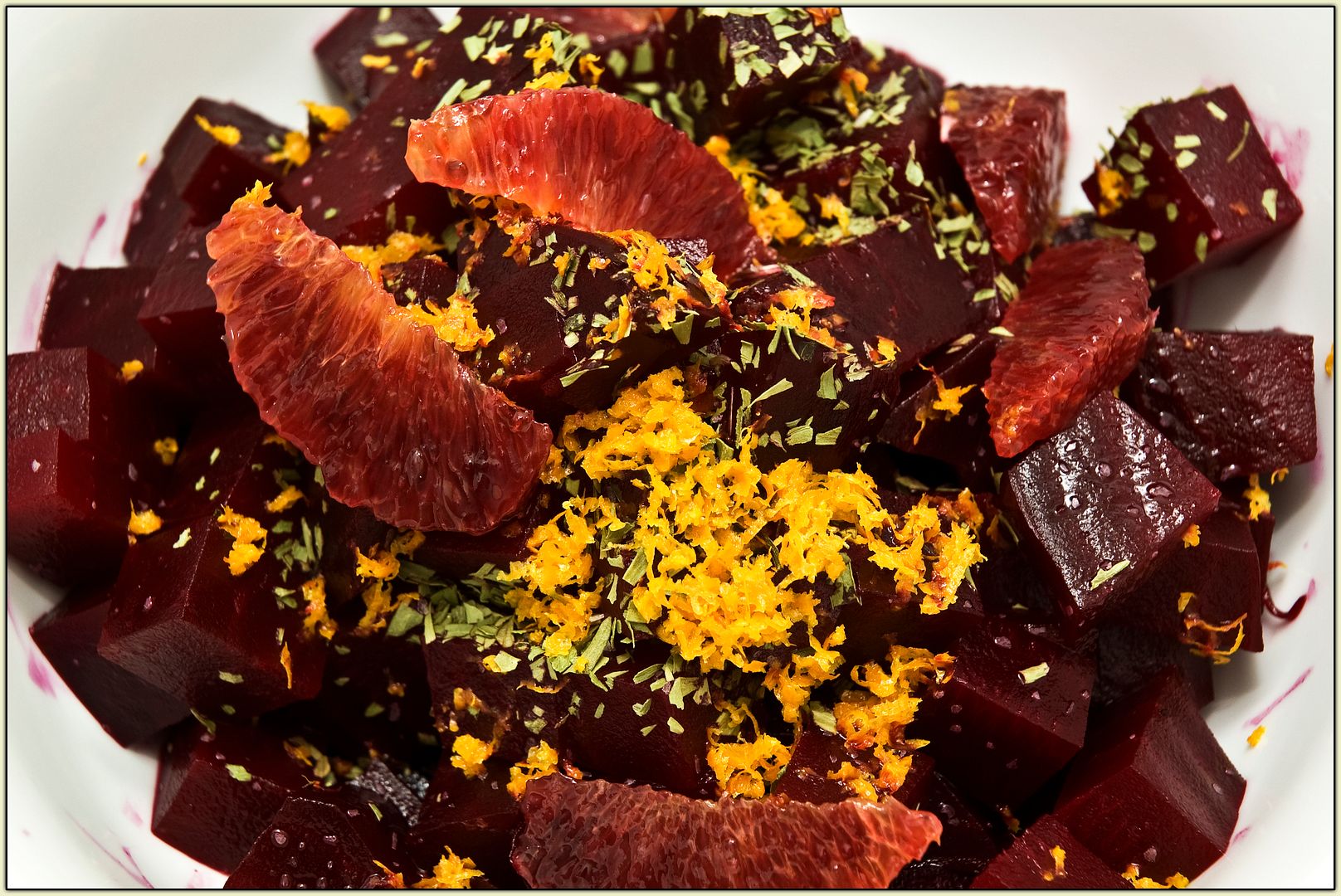 Beets with suprêmes of blood orange, AKA "Murder in the Produce Section."
As I was skinning one especially large root the other day, I could not help but notice the incredible amount of reddish-purple juice that was schpritzing all over the kitchen. Good Gawd, it resembled nothing so much as a vegan murder scene... and that made me think of The Scottish Play, for it takes a certain amount of obsessive hand-scrubbing à la Lady Macbeth to remove the persistent Beet-Root Stain.
Ahhh, the things I endure to enjoy my tasty treats.
Postscriptum:
The following evening, I was reminded about yet another property of the Ruby Root, having been momentarily horrified at the reddish color appearing in the porcelain bowl. "Holy crap!" I thought. "Am I passing another kidney stone?" And then I remembered the beets.